A Girls Getaway: Finding Sanity And Fun On Our Vacation in Bermuda
Pink sands. Turquoise water. Baby blue skies. It's Bermuda, and man is it perfect.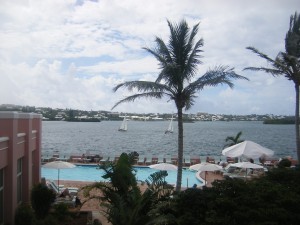 About a year ago, eight girlfriends began planning this vacation. An escape to paradise with college roommates, sorority sisters and 7th grade pals. We chose Bermuda because it was a place that none of us had visited and as a getaway, it was perfection.
Bermuda is about 640 miles east of North Carolina, or basically a 2 hours flight for much of the East Coast.
The Hotel
We stayed at the Fairmont Princess Hotel in the capital city of Hamilton. The hotel first opened in 1885 and honestly I think the elevator hadn't seen an upgrade since 1913. Nevertheless it was charming and its history was palpable.
The frozen-in-time stately lobby had marble floors and a black grand piano. There was even a Desmond Fountain bronze statue of Mark Twain, who apparently loved to frequent the hotel dubbed the "Gem of the Island."
The sister hotel is the Fairmont Southampton and it is much more modern, polished and has more amenities, but I'm glad we stayed at the Princess hotel because it's located just steps from Front Street, which is Bermuda's Magnificent Mile.
The staff here is impeccable. Answering all of our silly questions, giving great restaurant recommendations, running routes, must-see attractions and even off-the-cuff requests like how to order vodka for the suite when room service is closed or how to get a stripper for a bachelorette. (FYI, we ended up not getting her the stripper.)
The Spa
Really? Is there any other spa in Bermuda worth visiting than Willow Stream? Probably not. I was set to have a 90 minute Relaxation Massage at this oasis of serenity and my BFF had a body scrub followed by a massage.
In all the hubbub before going to Bermuda, I was more focused on getting everything ready for my boys being without me for five days than getting myself prepared. So after my massage I set up an appointment later in the day for a manicure and pedicure.
Between pampering sessions my BFF and I ate at the hotel's Jasmine Lounge, which was nice in décor and had the best pita bread (or maybe I was just really hungry?) Though there were fruit flies all over. So much that we had to cover our food with our napkins. Finally we went outside and lounged by the pool, which, thankfully, was fruit-fly free.
I went back to the spa and got my mani and pedi then signed up for a brow wax to get my caterpillars under control. I was gone so long, my friends were worried I pulled a Natalee Holloway and they came to look for me.
Before leaving Willow Stream, I scanned the menu of indulgences to see if there was anything else I could try. I was trying to stall my departure from Heaven. Commonsense came thwacking me in the back of the head when I remembered: this ain't free.
So off I went, relaxed, happy and with perfect eyebrows.
The Restaurants
The food in Bermuda was beyond yummy. It's a large reason why I knew I had to workout while there. We sampled many restaurants and I love food so much I don't want to drone on about the perfect lobster mac n' cheese at our hotel, the insane Gorgonzola gnocchi at Maria's Ristorante or my latest contender for my personal world's greatest pancakes contest, which were at Bouchee.
At Maria's they gave us a private room and the wait staff created an entire new meaning to "attentive." (Thanks Eva!)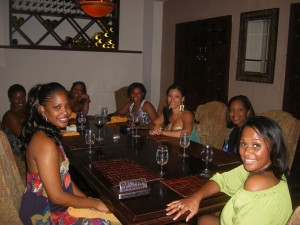 We spent our last night at the Flying Fish and as you can see we pretty much had the restaurant to ourselves.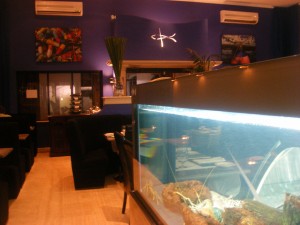 Most of us ordered the "special," which was pasta and lobster.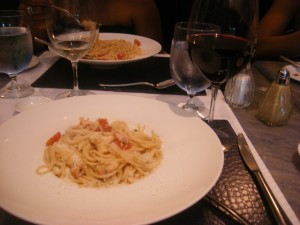 The Clubs
You know we had to hit the clubs while there. We had no husbands, fiances or boyfriends and most important no children, so we certainly had to drop it like it's hot.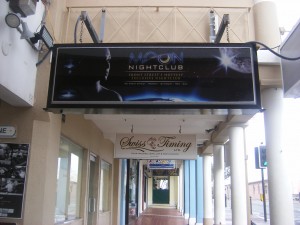 Our favorite spot was Club Moon because the DJ played what we wanted. My BFF asked demanded that he put on Lil Wayne, Drake and Jay-Z. He did and we worked it out. So much that the next day, at a beach on the other end of the 21-mile-long island, a man walked by me, turned around and goes: "Hey, were you at Club Moon last night?"
I laughed. Yeah, this mama still knows how to have fun.
But I also know to when to rein it in. There was this woman at Club Moon who was grinding on everything in sight, including all of us. And the walls. And the tables. After a few cold looks from us, she got the hint and left us to rub on other patrons. We were like who or what is this chic? A few days later we found out. It was Natalie Nunn from Bad Girls Club.
Another highlight came courtesy of this taxi driver who befriended one of our girls and he kinda became our island chauffer. He recommended we check out this jazz club called Shine that is owned by musician Wendell 'Shine' Hayward. The club features local musicians, but on many weekends, apparently, Hayward's son runs it and he's turned it into a booty-shaking club.
We walked up and the place was packed and the bass was pulsating. We snaked our way to the dance floor, and it was clear we were not from here. We got a few looks at first, but it didn't matter.
The DJ started playing songs by Biggie, Mary J. Blige and Foxy Brown and they all dated back to our college days. How fitting I thought, jamming to college music with my college girlfriends.
Though it was definitely a "grown folks" party. Turns out that night was for the Bermuda Union of Teachers. (What an unfortunate acronym.) and these teachers definitely knew how to have fun.
After sufficiently sweating off our makeup, we left to hit up Club Moon again. And this time, they escorted us into the VIP room.
Activities
What was great about this trip is that we went in knowing some people wanted to vacillate between the spa and the beach. Others wanted to explore the island. We all agreed to respect everyone's choices and have a great time.
Me and Jane were the big explorers, but we also didn't want to have a regimented vacation. We visited the Crystal Caves and the Gibbs Hill Lighthouse. I wanted to go parasailing or swim with the dolphins, but the timing didn't work out.
The Crystal Caves were first discovered in 1884 and it was quite cool down there looking at all the stalactites and stalagmites. Not to mention Beyonce did a photo shoot in the caves a few years ago. I think our pic is just as stunning as hers, don't you agree?
Hers: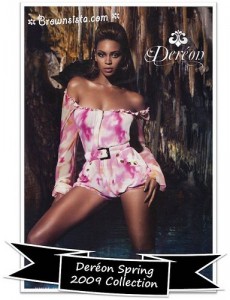 Ours: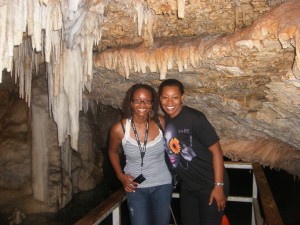 You can check out the video of Beyonce's Bermuda experience here.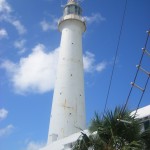 Jane, my BFF and I went to the Gibbs Hill Lighthouse, which was built in 1844 and is the oldest cast iron lighthouse in the world. Needless to say, the view was spectacular. We could see the different hues of blue in the ocean and appreciate how green and luscious the island is. We also got to watch a storm roll in over part of the island, which you know I loved. I thought climbing the 185 steps would be good training for my SkyRise Chicago event, but really it wasn't hard at all to go up.Going down was another story. I'm not usually a chicken when it comes to physical feats, but for some reason I got quite nervous going down the spiral staircase.
This trip was amazing, I had a blast and fell in love, with the island and especially my girls. Thanks ladies, you're the best.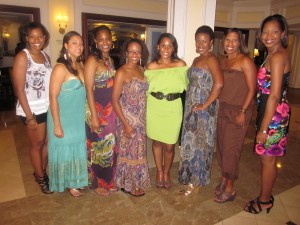 *Disclosure: I did not receive any money or gifts from any of the businesses mentioned. These opinions are all my own (who else would want them anyway?)