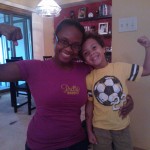 Tomorrow morning I'm running a 5K. I haven't been training. I honestly don't even remember the last time I ran 3.1 miles.
But I'm going.
I've always taken my training seriously. For the marathon, I didn't miss a single work out. For my half marathons, 10Ks or climbing the Sears Tower, I trained.
Not this time.
I don't know if it's because I figured, it's a 5K, so how hard could that be? Or if it's because I know it's not timed because it's not … Read more ...