God Help Me, I'm Training For Another Race
Why do I do this to myself? Why do I ever think these things are a good idea or worse yet, fun? What in the hell have I gotten myself into?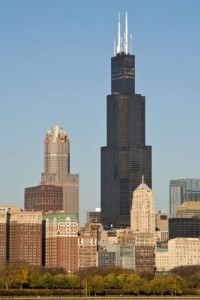 I kept asking myself these questions while walking to my first training session for the SkyRise Chicago. A race up the Sears, ahem, Willis Tower. All 103 floors. All 2,109 steps.
I've always wanted to do a run up a skyscraper and when my trainer organized a team for SkyRise Chicago, I thought it sounded like fun. Of course, it's all fun and games until you're staring at the endless flights of stairs.
A couple weeks ago Hubby and I did the Rock n' Roll Half Marathon and when my training started for that, I also had cold feet. But I'd run road races before. This SkyRise Chicago thing is stairs, stairs, stairs and more stairs.
*sigh* But I signed up for it so there I was getting ready to meet Matt, a hulking trainer who looks like he enjoys opening up a can of whoopass with his teeth. I was nervous to meet my teammates too. Were they going to be a bunch of buff bodies who prattled on about their latest triathlon? Use cool endurance-athlete lingo like: Boston. Lake Placid. Kona.
I took solace in knowing that at least two of the people were my buds from Sunday training. But still, I had sufficiently freaked myself out by the time I arrived at the gym. Thankfully one of my buds was walking up with her husband and we all were nervously asking ourselves why we were doing this.
Shortly thereafter, I met the rest of the team and they were all normal people just trying to be fit. I relaxed. Then Matt walked up. He looked bigger than I remembered and my stomach dropped. He's going to kick my a*s. As proof, he handed out waivers for us to sign, you know, should we die a horrible death.
We headed over to a nearby building with 10 flights of stairs and began running up and down and up and down and two at a time and down and half way up and back down and all the way up and back down and…. You get the gist.
About halfway through I wondered who strapped weights to my feet. My friend wondered aloud why we were doing this. I said because when we're done our a*sses will be high and tight. The group seemed to like that.
By the time it was over, we all felt pretty good about ourselves. We'd survived. And ya know what? It was even a little fun.