Rockin' at Chicago's Half Marathon
We did it. Today, Hubby and I ran Chicago's Rock n' Roll half marathon. Our feet carried us 13.1 miles or over 230 football fields, or up and down Willis Tower about 16 times or … You get the idea. It was a long haul.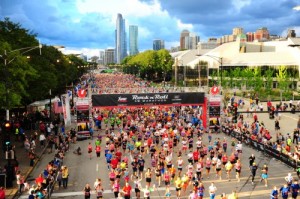 But we did it..
Our day started off at 4:15 a.m., after I'd hit the snooze button a couple times. We had stayed up too late the night before and loathed dragging our carcasses out of bed.
On the drive downtown, I was a nervous wreck. My poor Hubby. I was doing what we call "schpindling," where I prattle on about anything and nothing. It's nervous energy.
I couldn't believe we were about to run 13.1 miles. I wished I'd trained more. I worried about my shins. I worried I'd have another bad race like the Shamrock Shuffle. Worry. Worry. Worry. Why did I ever think this was a good idea?
Then there we were, in our corral, waiting for our turn to go. Oh God… I started to pray, but I couldn't even think of what to pray for. A fast, pain-free race? Good weather? Not to die? Then we were off.
In the Rock n' Roll races, there's bands playing along the course, so musicians would cheer for us and Hubby and I'd give them the obligatory sign of the horns. The first few miles of the race felt really good, Hubby was even cracking jokes and we enjoyed soaking up the Second City. Running underneath the Magnificent Mile, crisscrossing the Chicago River four times, inhaling the chocolaty goodness in the air courtesy of the Blommer Chocolate Factory.
Besides the live music, the spectators were awesome. (Chicago has one of the best running communities.) Their signs were inspirational. One woman's read: "Some day you won't be able to do this. Today is NOT that day." My favorite was at mile 12. A man held up a bright green sign that said: "You Got This."
I always love high-fiving the crowd. The best was these two tubby kids standing outside the projects with their hands outstretched. I smiled broadly, got my high-fives and thanked them. They giggled back.
Will Ferrell was playing his cowbell on the sidelines. Well, it was kinda him. He had the short shirt, hairy belly thing, curly moptop thing going on.
Meanwhile Hubby and I kept plugging along and we felt pretty good. We agreed that if I was going too slow for him, he'd meet me at mile 12 so that we could cross the finish line together.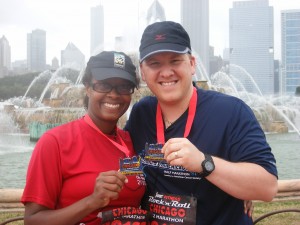 I kept waving him forward and I didn't want the hare to wait for the tortoise. After doing this about 5 times, he gave me a look that let me know he wasn't going anywhere. We were in this together. I felt lucky. Neither of us are big runners, but this was only the second race in Hubby's life and it was a half marathon. Quite impressive. And the only reason he was signed up was to run it with me. Quite touching.
Around Mile 4 I told him I was going to switch on my music. And when I did, I kicked it up a notch. (I'd like to thank Nicki Minaj, Rhianna, Lady Gaga, Beyonce and even Britney for their role in today's activities.)
I have a confession to make. I have musical Tourettes. I get so hyped about a song that I tend to belt out part of the lyrics. So my fellow runners would hear.
"Ruh Ruh, like a Dungeon Dragon!"
"Eyelash!"
"Baby, you were born this way!"
"My female intuition telling me you a dog!"
"WOAH OH OH OH OH OH WOAH OH OH OH…"
It's bad, but I didn't care. It gets me through the rough spots. And there were rough parts. Around mile 10, I was like OK. I'm tired. My back was hurting, the balls of my feet were working on a spectacular blister, and worse my legs felt like they were knee-deep in cement.
I downed some Gu, water and Cytomax and told myself I had to break through this wall. Finally the cement dissipated and I got my running legs back. My smile broadened, my pace quickened and we kept headed for the finish line.
A few steps before the finish line, I reached for Hubby's hand. He clasped mine. After 2 hours and 52 minutes, we were done. We did it.