Goodbye Chicago, we're moving to Portland
There's exciting times here at She'sWrite. First there was my Voices of the Year honor, now I want to tell you more big news: We're moving to Portland.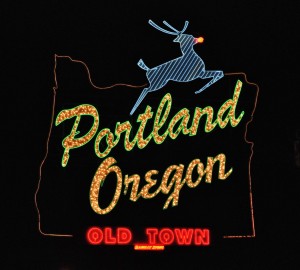 Yes, 2,109 miles westward-ho to "Rose City" where they vow to keep life weird. Although Portland was never in our plans, in fact we wanted to move much farther east, Hubby was presented with a job opportunity that was too good to pass up.
So the past few weeks have been filled with researching Portland, its schools and neighborhoods, finding a home, purging our old stuff and figuring out what we're going to do with our current home. Not to mention visiting old friends and checking out our favorite Chicago haunts.
I have to admit, I'm nervous about moving to Portland in a couple weeks, but I'm also excited. It'll be a great opportunity to explore a majestic region of America, as the Pacific Northwest is so beautiful. Also, Hubby and I had long been feeling like we're in a rut of sorts and we're looking at this as a way to start things over. We feel it's good to shake things up and stretch ourselves a bit.
And as a foodie, I'm stoked because Portland is known for its tasty nosh not to mention its wineries yum, yum. Hubby is a beer snob, so he can't wait to gulp in the microbreweries. We're also looking forward to exploring the forests, mountains and the Pacific Coast with the kiddos.
We're going to miss all of our friends though because they really are our family here and it's hard to say goodbye to the ones you love. At least we'll always have Facebook, or more important She'sWrite.
I'll be sure to bring you all along on our weird but fun adventures in Portland.
Stay tuned.