Race 2012: A Conversation About Race & Politics in America
Ya'll know I'm not a political blogger. Of course I've got my opinion and all, and I even delve into race issues every so often. But I was given the opportunity to be one of the bloggers for an upcoming PBS documentary called Race 2012: A Conversation About Race & Politics in America .
And I thought, meh, why not?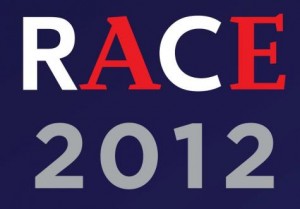 The Politics
There's plenty out in the blogosphere about Barack Obama not doing anything during his four years, and there's also tons of chatter about Mitt Romney not caring about nearly half of the country. It's only going to get more heated as Nov. 6 draws near.
Meanwhile, I find myself keeping my political conversations limited to my dinner table or a few friends. I think a lot of people do this on hot-button issues, unless they're really on fire for a particular cause. It's easy, especially in the blogosphere, to get attacked and to attack someone else. So many of us in the blogosphere who aren't rabid about an issue, keep quiet. Being one of the PBS Race and Politics bloggers is my chance to open up.
The Race
Another issue that people struggle to discuss is race. It's hard to have an honest conversation because many times we're not being honest with ourselves about race. Sometimes we know we're being dishonest, other times, we aren't aware of it. It's hard. But we all, regardless of color, have to keep trying.
Obviously I'm more comfortable talking race than I am politics, but when I look at the whole picture of my country, it's clear they're intertwined.  We have a black president, the biggest group of brown people this country are Hispanics, white people comparatively aren't as numerous as they once were, and immigrants certainly affect the political landscape. This PBS documentary, which is to air Oct. 16, aims to explore this presidential race on the backdrop of American's complex relationship with race.
The one-hour show attempts, among other things, to give an insider's view of racial pollsters, strategists, spin doctors and (naturally) the candidates. The idea of the documentary intrigues me, I've only seen a few clips of it so far and it seems quite targeted in its mission. I'm excited to see more and even more excited about how, hopefully, it will foster new and improved conversations on race.
*To find out more about the documentary and the blogging project, you can like Race 2012 on Facebook, follow on Twitter, or visit the site of the person who is heading the blogging project, Monica Medina.