We Did It! Pretty Muddy Was Pretty Awesome
It's days later and I am still finding dirt. It's behind my ears, under my nails and in other crevasses you don't want to hear about.
Me and my girls finished the Pretty Muddy race. It was a fabulous 5K with about 10 obstacle courses on beautiful farmland in Chicago's far south suburbs. The morning festivities started off at my house,
where three of us piled into my friend's new Honda Pilot. (Her husband was adamant that he was OK with chunks of mud in the car, but not the hard-to-remove streaks of mud.)
As we neared the farm, my friend who is a massage therapist mentioned that the race wasn't a timed event. The Speedy Honda Owner shrieked: "WHAT!?!? It's not timed!?!?" She glared at me and looked like she was ready to go back home. I totally understood though, this girl is a track star. She did cross country all through high school, coached cross country, routinely wins first or second in her age group for whatever race she's in. She's fiercely competitive and was wondering what was the point of a race if it's not timed.
Once we arrived at the farm, we had fun checking out the wacky outfits. Many girls were sporting tutus, there was a group with pig snouts and curly pink tails, another gaggle had rainbow mohawk wigs and one of my personal favorite was a Teenage Mutant Ninja Turtle. (I think it was Donatello. I don't know for sure because I was never a fan, but I loved that she stayed in character throughout the entire muddy ordeal.)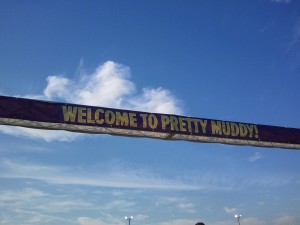 After getting our bibs, doing gear check, a last minute tour of the Port-A-Potty, it was time to get lined up. We three agreed we'd start together, but we wouldn't run together since we rock different paces. Also, I made clear I hate talking during a run. I don't want anyone to talk to me and I certainly don't want to talk to anyone else.
For me, running is *my* time. It's where I release my mind to wonder whatever and wander wherever.
On Your Mark. Get Set. Go! We were off. My speedy friend bounded ahead. Another girl was trying to keep up with her, I just smirked because I knew the Speedy Honda Owner would smoke her.
I pulled about two steps ahead of the Massage Therapist, who has never met a stranger. She was yak\king it up with these other girls behind me, having a great time.
Then I tripped. The running surface was uneven and we were hopping over dried mud in the mold of tractor tread, along with fallen crops. Before the race I was worried about my shin splints, but now I worried about falling.
Thankfully the most eventful thing about my trip were the gasps from the girls behind me.
All too soon came our first obstacle. It was a tunnel of bubbles. I laughed, how perfect for a girly muddy run for there to be soap and pretty bubbles before we get down and dirty.
After wading through the bubble tunnel, the path snaked out to an open field. On my left pedals of yellow filled the meadow. "Wow, that's gorgeous," I said.
"Thanks for saying that," said the girl next to me. "I wouldn't have even noticed if you didn't mention it."
The run continued. We climbed a grid of ropes up at a 45 degree angle, and then back down again. My massage therapist gal pal was cracking jokes all the way along the towering apex of torture.
The run continued. We had to go through mud-filled tubes. I took the larger one so that I didn't have to crawl in the mud. Meanwhile, I can hear Massage Therapist slopping around like a pig in heaven. I joined her in the slopping on the next round of tubes. The oozy mud actually felt great.
We went over and under fences, carried lumber while running, climbed an inflatable slide and hit up another rope grid. All the while I was amazed at how great I felt. My shin splints were non-existent and my Massage Therapist friend was so funny with her jokes, I forgot about my no-talking rule.  After dropping the log from her shoulders, she taunted the people behind us that "real women take two."
Finally I could see the purple finish line. As I rounded the corner I spotted Speedy Honda Owner. She was standing there, waiting. I grinned.
"We started together, I figured since it's not timed, we can finish together," she explained.
Awesome.
About a minute later Massage Therapist rounded the corner and the three of us headed for the final mud pit.
We flopped around in the mud pit, laughing hysterically. The mud was flying and when Massage Therapist went to hug me as we were knee deep in muck, my worst fear happened.
A chunk of mud went flying in my mouth. At first I was mortified. ACK! But then it seemed funny, so I spit it out and kept laughing. We giggled all the way to the finish.
Thanks Pretty Muddy, it was pretty awesome.
*This post was originally published at ViewSport.