Storytelling in Portland: I Rocked the Mic Ya'll!
For those who have followed my blog for awhile already know that I love storytelling.
Before we left Chicago, I was trying to immerse myself into the storytelling community and in Portland I'm trying to do the same.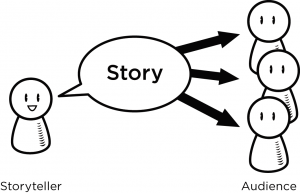 Saturday night Hubby and I went to a storytelling event, where a new friend of mine was to grace the stage. A cool thing about this event was that all proceeds went to Rahab's Sisters, which is a group that helps women in Portland who are affected by the sex industry, domestic violence, drugs and homelessness.
The other cool thing was that it was at a church, Saint David of Wales Episcopal Church, and there was a keg. A keg in the church. That's way better than the grape juice at communion. I wanted to take a picture of the keg, but couldn't get a good one on the sly and didn't want people to think I was documenting them partaking in libations in the house of the Lord.
Anyway, when we arrived, they asked us if we wanted to share a story. I hadn't told a story since last May, and had nothing prepared, so just laughed it off, pretending I was too shy to get in front of the crowd. (Hilarious, right?) But I got away with it because people here don't know me or anything about my love of storytelling.
Soon it was showtime and my pal Kerry Cohen was up first. She poignantly spoke of the time she got married and how her autistic son processed it all. She nailed it. I began to get an itch, should I put my name in the basket? If so, what story should I tell? Could I wing something?
The other storytellers were Brian Benson, who had a hilarious tale of getting high with his dad on a ski trip. Liz Fischer Greenhill told us of a summer at art camp, where her cabinmates were either insane or mean girls and she found solace in a pig. Melea Seward, who helped organize the event, talked of the life and death of her no-nonsense grandma. Gloria Harrison spoke of white knuckling it through an anxiety attack while camping with her twin boys. The night was Joshua Kingsley's storytelling debut and we learned about his upbringing in Idaho by parents who struggled with mental illness.
Early in the evening the event's host, the Rev. Sara Fischer, asked for open-mic submissions, saying that person would present after the intermission. Hmmm, should I? I asked Hubby and he asked if I had anything prepared. I shook my head no and he goes, "well that'll be brave."
When Fischer announced only one person had signed up for the open mic, I thought well, if I put my name in I have a 50/50 chance that I'll be called. So I put my name in.
"What story are you going to tell?" Hubby asked.
"Remember that time in Atlanta when we were walking down the street and these guys were heckling us for being an interracial couple?"
Blank stare. He didn't remember.
"OK, what about the time on Michigan Avenue and that homeless guy came up to us and…"
Another blank stare.
"Why don't you tell Down With Brown? That's a good one."
"Yeahhhh," I was losing confidence. I didn't want to tell Down With Brown here, I felt like sharing something else. But Hubby had a good point, Down With Brown was safe, I knew that one.
This interracial piece was half-baked at best. I was torn, then I got frustrated and did what spouses tend to do. I blamed Hubby. "See? I wish I hadn't even told you because now I don't know what to do."
I walked back to our seats and thought it through. I looked up the piece I wrote on interracial marriages for The Huffington Post. After scanning it over, I decided I should tell the story I want to tell and there's no need for me to have it perfect because the story was MY story.
It was announced that instead of drawing one volunteer's name out of the basket, they would feature us both. Welp, so much for 50 percent.
The first open mic chic went and she was good, really good. The piece didn't sound rehearsed, but her beautiful descriptive words made it clear, she was a gifted story teller. Then all too soon when the Rev. Fischer asked: Is Melanie Coffee here?
I briefly considered staying seated. Again, no one here really knows me. But I stood up and got in front of the crowd. Looking down at their expectant faces, I told the audience how throwing my name in the basket seemed like a good idea at the time, but now, not so much. Inside I reminded myself that I still didn't even know at what point to end the story.
I adjusted the microphone, and began. I talked about meeting Hubby in college and some of the obstacles we had from some of his white friends and more from my black ones. I told of post-college pitfalls like the time we were heckled in Atlanta and when one of his colleagues made a racist joke, Hubby told the room that his wife was black.
Then I spoke of the time a seemingly homeless black man on Michigan Avenue approached us, pointing saying "You guys! You guys!" and I was bracing for an onslaught of vile, racist verbiage when he said: You guys … are a beautiful couple, I can see the love all over you."
The crowd chuckled in relief, seeming to feel the same relief I felt that day when that man saw Hubby and me.
A little voice in my head whispered: "Now."
So I curtsied, making it clear my story had ended. The crowd applauded.
*Illustration by Calvin C. Chan via Rosenfeld Media.