Storytelling in Chicago: I'm kinda liking this whole stage thing
Driving down the Kennedy Expressway  at a whopping 13 miles an hour, I was white-knuckeling it. It wasn't that I was running late (surprised?) or that I needed to take a whiz. It was that I was going to tell a story about one of my life's not-so-proud moments.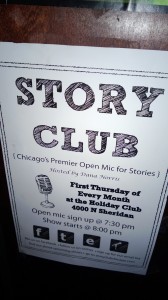 I was headed to Holiday Club in Chicago's Uptown neighborhood to be a "featured performer" for Story Club Chicago, where people stand on stage and tell true stories about their life. I participated in Story Club's open mic a few months ago and not only did I win, but the creative genius who is the mother of Story Club, Dana Norris, asked me to come back as a featured performer.
Natch, I said yes and so here I was. Creeping down the Kennedy. Nervous. Worried I'd mess it up, though since it's a story that is about my life, how could I? Nevertheless I was nervous. To focus, I decided to read my story.
Yes, while driving. I figured it was better than the people around me who were texting, talking on their cells without being handsfree, eating, putting on makeup, painting their nails, or using their yoga skills to stretch into the backseat to put a baby's pacifier back in his mouth.
After reading it over a few times, I started making some tweaks and changes. I changed the characters' names because I knew I'd eventually put it on my blog and this is a nonfiction piece. I also reworked the ending. Yes, all while driving, it was good for my nervous energy.
And I had a lot of this energy. I'd been nervous since about mid-afternoon, but strangely the closer I got to the place the more comfortable I became. By the time I walked in the door, Hubby had already staked out a spot close to the stage and two of my bestest curly-haired divas were there.  A few minutes later I spotted one of my awesome gal pals who is like Martha Stewart, except she's nice and not an ex-con. My support posse was rounded out with a friend who "knew me back when" and then one of my uber smart AP buds who would always snark with me about the stupidities of the world.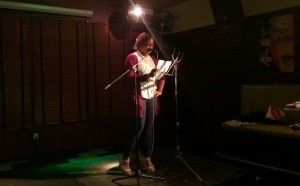 Seeing all my peeps wiped my nervousness away and I was giddy, giddy to catch up with people, giddy they came out and giddy to take the stage. Then Dana told me that I'd be going behind her, which I thought was a horrible idea because this girl is funny. Like milk-shoot-out-your-nose funny.
I know I can make you smile, possibly chuckle, but I can't make you laugh so hard you wish you had a Kleenex.
Anyway, all too soon it was time for me to take the stage. I was caught up in the show and then realized Dana was introducing me. Whoops. Stumbling over my husband's legs, I take the stage, praising the Lord I didn't land face first.
I eased into my story and got a few chuckles and then a few more. Soon, I felt like the audience was right along with me, getting my humor and sharing in my experience. There's something crazily unifying about sharing yourself, especially the ugly parts, in front of people. Because when they "get it" it makes me feel like I'm not the only loony in the nut house.
Click here for my story. I do think it's better in person, but we didn't record it so you'll have to use your imagination. 🙂