Portland Coffee Shops: Finding A New Place To Call Home
I'm looking for a new writing home. That perfect little nook that inspires creativity and has the comforts of home, but the seats are firm enough to keep me awake when I get too sleepy. It can't be pretentious, nor too grungy. It needn't be quiet like a library, but have a nice, non-distracting hum.
I had that place in Chicago, it was the now-shuttered Cafe de Luca in Wicker Park. Since we've picked up and moved to Portland, it's time for me to find my writing home here. I thought I'd bring you along with me as I check out coffee shops, small bistros and other spots that could vie for the prestigious title of Melanie's Writing Home.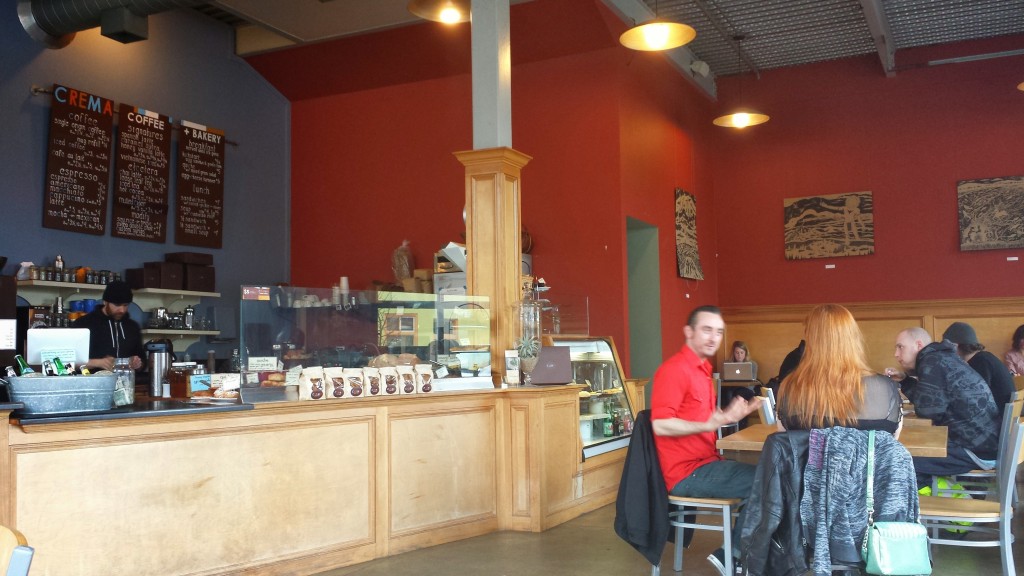 My first stop is Crema Coffee +Bakery. This has been in the Buckman neighborhood in Southeast Portland since 2004. It's trendy. It's got burnt orange walls, cement floor, exposed gray ducts, the gray complements the light wood throughout much of the bakery. There's also a fair amount of local art on the walls, which seems to be the prerequisite for all coffee shops.
By its clientele, I'd say it's a good Portland spot. Most of the groups are represented here. There's the typical multicolored-and-matted-haired people, the mid-50s set who consider a blue button-up shirt, scarf, starched jeans and loafers, their casual wear. And then my favorite is the guy who looks like an ex-con, with pearcings, tattoos and a permanent I'm A Bad Ass scowl. But in reality he's probably the head of a super-successful start-up.
The menu here is simple, quiches, various rolls and sweets, sandwiches, soups and a full coffee bar. And it's good. I ordered a vanilla latte and the quiche with mixed green salad.
The quiche was beautifully hardy, with bacon, asparagus, zucchini, onion, potato and cheese all on a flaky crust. Then the salad was awesome, I wish they'd bottle up that strangely-thick balsamic vinaigrette dressing because I seriously want to lick the plate it's sooo good. However I believe even by Portland standards, doing that would be too weird.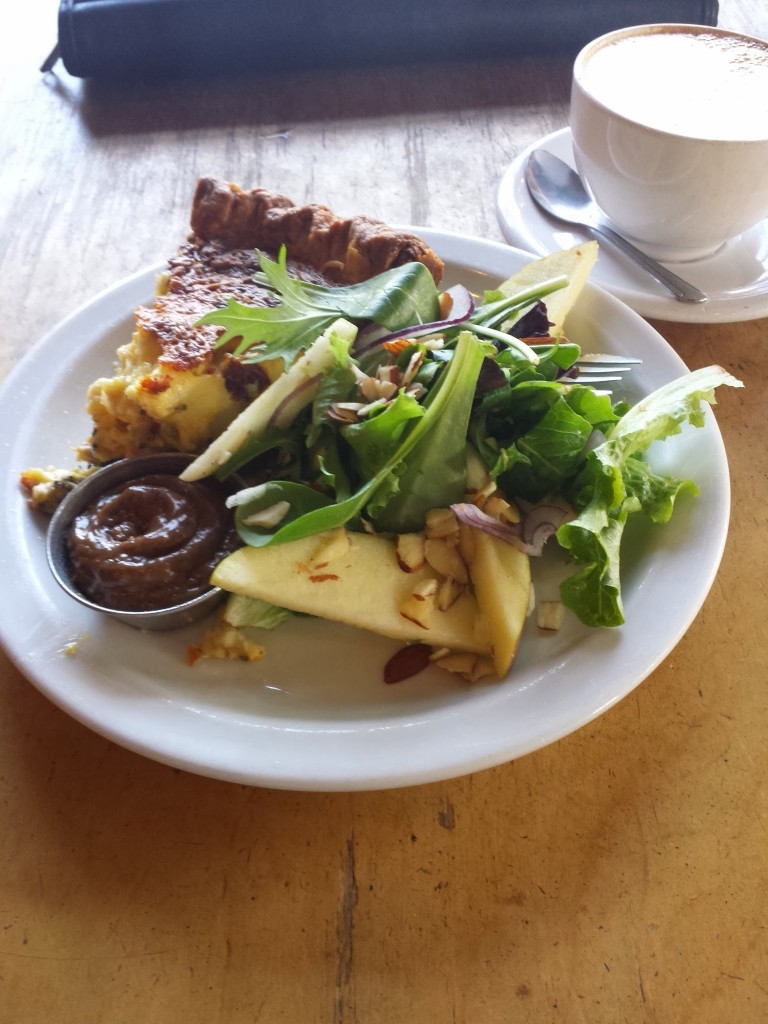 Is this place my writing home? Not sure yet. I really like it, Though, it's a little too streamlined for my messy tastes and the music is quite loud. It's not blaring like a club, but a little loud for writing. Or maybe this is just a day where I'm easily distracted and the music, regardless of how smooth-sounding, is making it hard to focus my spchindling mind.
One thing that's here that I haven't seen elsewhere is I see two people writing. Not on their laptops like the rest of us jamokes, but writing in a notebook. This is my favorite way to write, but I don't do it near enough. It's neat to see these two ladies actually writing. Because of the long continuous movement of their hands, it seems like they're actually writing sentences instead of a To Do and/or grocery list.
I probably should stop staring at them now since it's kinda rude.
All in all, Crema Coffee and Bakery is a good spot and I think it makes for a great litmus test in my venture to find my home away from home.
I'm looking forward to the next stop. Do you have a favorite place to write, read or just be?