Braving the ice, wind and snow for the Portland Auto Show
Anyone who knows me well, knows I love cars. This weekend we decided to fight the elements of snow, wind and rain and hit up Portland's Auto Show.
We'd been planning to go to the auto show with another family for awhile. Then Snowmageddon, as the locals are calling it, hit and the city shut down. For reals. In Chicago on a normal winter this would have been called a Thursday in February, but not here.
The morning of the auto show I got a text from the authorities saying "Portland strongly urges all residents to stay indoors today and not travel due to ice." I started to have second thoughts on going.
I talked to Hubby, who also was on the fence. However our friend was hell bent on attending. We agreed that the families didn't have to go together, but Hubby and I still wanted to see the cars. (He too is a car fan.)
So we piled in the car. I said a prayer, hopeful that this would not turn into a trip we'd regret and we very slowly hit the road. Much of the highway was caked in ice and slush and I admit, I had the chicken brake on the whole time. That's saying something because I'm known to drive my car like I stole something.
Soon we started to see the misfortunes of other drivers, a big truck perpendicular to a steep embankment, an empty taxi whose front fender was in the shape of a deep V, and then the tell-tale tracks of tires swerving off the road and abruptly ending in the ditch.
But we made it to the auto show and started off on the second floor called the "Luxury Loft." Luxury indeed, there were Benzs, BMWs and Bentleys, oh my! I started with the drooling over the BMWs, where they had their new 4 series. Then I moved onto the Lexus area, where there was a beautiful, inches-from-the-ground concept car designed by Five Axis called the Lexus Project GS350 F Sport. The Lexus rep told us it had hydraulics so that when you drive it, it would rise up so as not to scrape the streets. In a word, it was Fierce!
I soon found myself sitting in the Lexus hybrid. I admit, especially here in Portland, I feel a little bad driving a gas guzzling, carbon dioxide belching big SUV, but with kids have gotten used to the extra space and room. So much that, as I've said before, it's like another room in my house.
So not wanting to give up the added room, while wanting to be a little greener, the hybrid SUVs speak to me. Specifically that 2014 RX Hybrid (Ahem, Lexus, I'm talking to you guys…)
Next it was time for me to drool over the Mercedes. At that time the five kids had taken to running around the ballroom finding the coolest cars, so I didn't get to sit in one, but I did ogle a lot.
Ethan loved the Mercedes' so much, he took to hugging some of them.
Then came my favorite car in the entire world: The Lamborghini. If I were to come into a sick amount of money, this would be my first irresponsible buy. I'd get it in black. In fact I'd get the Aventador LP 700-4.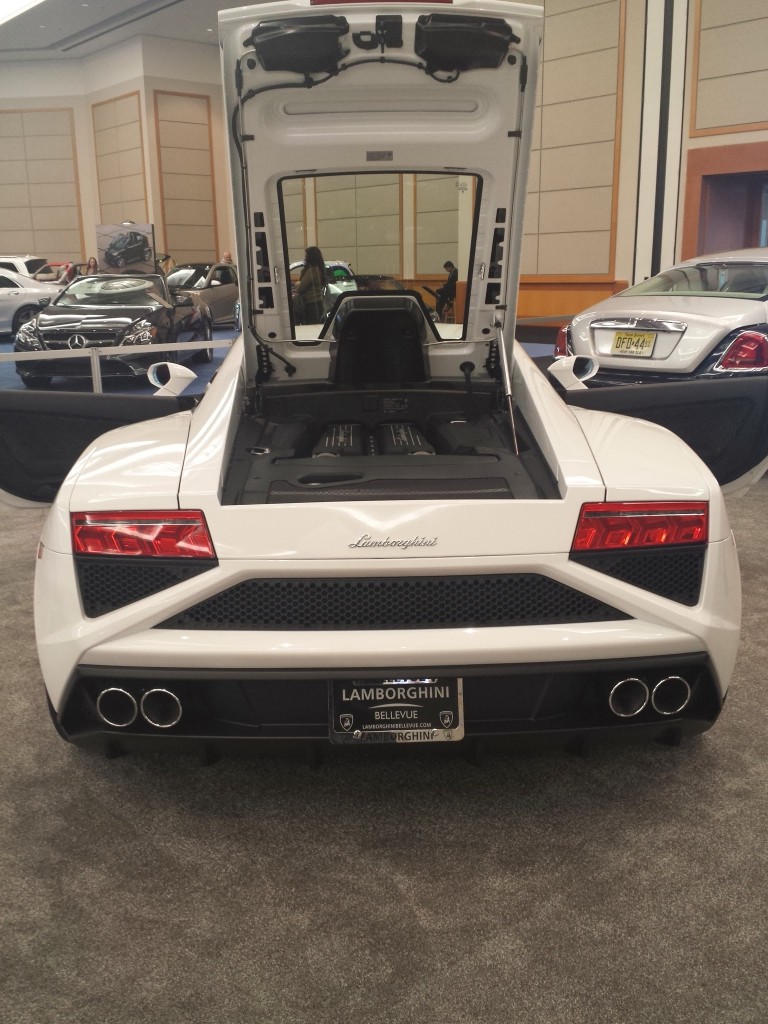 But back to reality, at the auto show there was a beautiful white 2014 Huracan. It, along with the Rolls Royces and Bentleys were cordoned off with a metal fence of sorts. However that didn't stop 3-year-old Ethan and his 2-year-old friend from blazing through. The security breech caused the guard to have a coronary, but my friend rescued the cars from our little guys and their grubby fingers.
We later ventured down to the main floor to check out the Toyotas, Fords, Hondas, Volkswagens and other cars you normally see on the roadways. Since I've driven a Jeep for the past 10 years, I had to go check them out. I gotta say I was disappointed in the new Jeep Cherokee, the redesign, particularly the headlights made it look more like a Hyundai instead of a Jeep.
My first car was a Ford Escort, so I had to go see what Ford was up to. I've long been intrigued by that commercial that shows how you can open the liftgate with just a kick of your leg. That's the Ford Escape and I pulled aside a sales rep to ask if I could give it a try. I failed the first couple times as I was waving my foot back and forth and then I got the hang of it. Just extend your leg under the back of the Escape and it opens. Extend your leg again and it closes. So handy. I hope it becomes a trend with other vehicles.
All too soon it was time to go. So we packed up the kids, headed back to our respective SUVs and hit the slushy road home.
*To check out my little guy's funny experience on a Honda motorcycle, check out my Facebook page. And if you haven't already, while you're there go ahead and hit "Like." Thanks!