Grand Turk: Rebuilding After The Hurricane
We arrived at the island of Grand Turk and it looked like something out of the cruise ship's marketing materials. But after spending a few hours there, we got a glimpse of an island that is still struggling to recover from a devastating hurricane.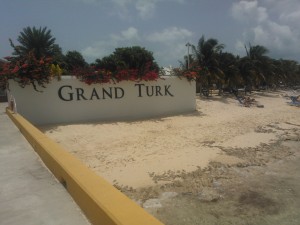 Grand Turk is the capital of the Turks and Caicos Islands, which are a collection of Caribbean paradise just north of Haiti and south of the Bahamas. Grant Turk is seven miles long and boasts of white sandy beaches.
Once getting off the cruise ship, there is a beautiful sign that reads: "WELCOME TO GRAND TURK" and you walk onto the island through a duty-free shop that sells Gucci bags, rum and Estee Lauder.
When you exit that store, you enter the town square where there's jewelry shops, clothing stores, art galleries and other boutiques. That's where we met our tour guide for a Taste of Grand Turk.
Our driver/guide "Ramon" was someone who seemingly knew everyone on the island. While waiting for the other guests on the tour people would walk up to him, the girls flirtatious; the boys, brotherly. Since Grand Turk has a population of 3,720, it's feasible he knows most people there.
Once we left the cruise center, we saw a very different Turk. One that in 2008, Hurricane Ike chewed up. There were empty homes with broken windows, boarded up buildings, homes so half constructed I couldn't tell if it was being built up or torn down.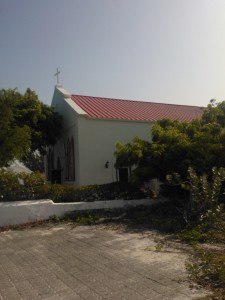 We visited St. Thomas Angelican Church, which was built in 1823. A woman running their vacation Bible school told me that they had just put on a new roof when Hurricane Ike hit and Ike ripped it back off. The roof has since been replaced, and the church looks good as new.
Down the street though, a cow is munching on the grass in front of a home that only has its foundation.
Ramon says he was at home when the hurricane struck, and that it was very scary, but thankfully no one on the island died. However after the hurricane, scores of people fled the island. Those that remain are still picking up the pieces. After eating a divine lunch (fried plantains, steamed conch, rice and chicken) I watched as men started to clean up the rubble at the seafront bank that Ike demolished. It's been four years since Ike wreaked havoc here and some places seem as if it happened six months ago.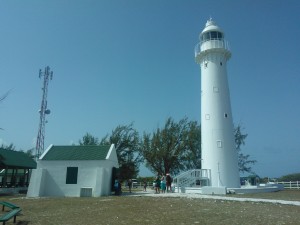 But the people here are not all "woe is me." They're laid back, seemingly happy and believe that they'll build Grand Turk to its grandest yet. I'm hoping to take some of their "Go With The Flow" attitude with me when I return home. It could happen because that attitude is very contagious. For example when we were touring a lighthouse that was built in 1852, it was so beautiful outside I took a moment to stretch out on a picnic table and nap. (No, I wasn't hungover *or* drunk.)
I wonder how much I'm looking at this contrast of wealth through my American lense. Part of me just can't square the pristine beaches, hotels and high-end boutiques inside the Cruise Center, with the shattered windows and half-collapsed buildings elsewhere.
It's clear the island's livelihood depends on tourism, and they are very gracious hosts. I wish them all well and hopefully we'll make it back someday.