Bob Marley, the Beach Boys and Half Moon Cay
After we left Grand Turk, it was off to Half Moon Cay. I know, when I first heard of it, I was like what the heck is that?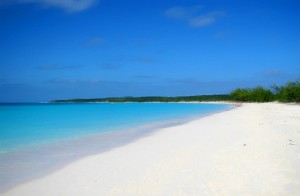 Turns out it's Carnival Cruise's private island. (oooo la la!!) When we got there, our awesome cruise director named Noonan began this heavily apologetic explanation of how we exit the ship. It's through a "tender" process. No, nothing to do with juicy steaks, but it's an excruciating process that involves getting 3,000 people off the ship via boats that hold 300.
Thankfully we let the masses go first and then headed out. We spent hours in the clear blue water, leaving only to fill up on adult beverages. (Sidenote, what *is* it with the Islands and rum? I don't get it. I think it's gross, but then again, I'm just a vodka girl.) I'm no beach connoisseur, but I gotta say it's the best beach I've ever been to. There was no seaweed in the water or coral on the floor to stub your toe. There was nine miles of white, sandy paradise that curved around bright blue water.
It was late afternoon and time to leave Half Moon Cay. Again, we had to go through a tender process. The line for the 300-capacity boat was already several blocks long, so we saddled up to the bar closest to the front of the line and drank, and drank and drank.
Several others had a similar idea, so the bar by the shoreline began to fill up. When the line disappeared, me and 150 of our closest bar buddies staggered onto the last tender. We turned that boat into a party boat. There was no music, so a group decided to start singing, and we all joined it. It was the Beach Boys' "Kokomo" and that somehow transitioned into Bob Marley's "Everythings Gonna Be Alright."
As we swayed onto the cruise ship, it was clear a good time was had by all.