Moving is one of the most stressful things that can happen. Thankfully we had great movers, who after just a couple days began to feel like family.
First, when Hubby got a new job, it came with a relocation package and a relocation company that shall not be named, but was one of the most inept organizations I've ever run across. Though they were supposed to make life for us easier, they only made things more complex, annoying and ridiculously inflated the costs.
Anyway, after drama after stupid drama, we were allowed to coordinate our own move and Hubby picked this one guy with Federal/Allied Van Lines named Mike Keen. He's a slight man who is razor sharp and you get the sense that he's seen and/or done it all in his 25 years. Honestly, he reminds me of Harvey Keitel's character Mr. Wolf in Pulp Fiction. (But without the homicidal tendencies of course.)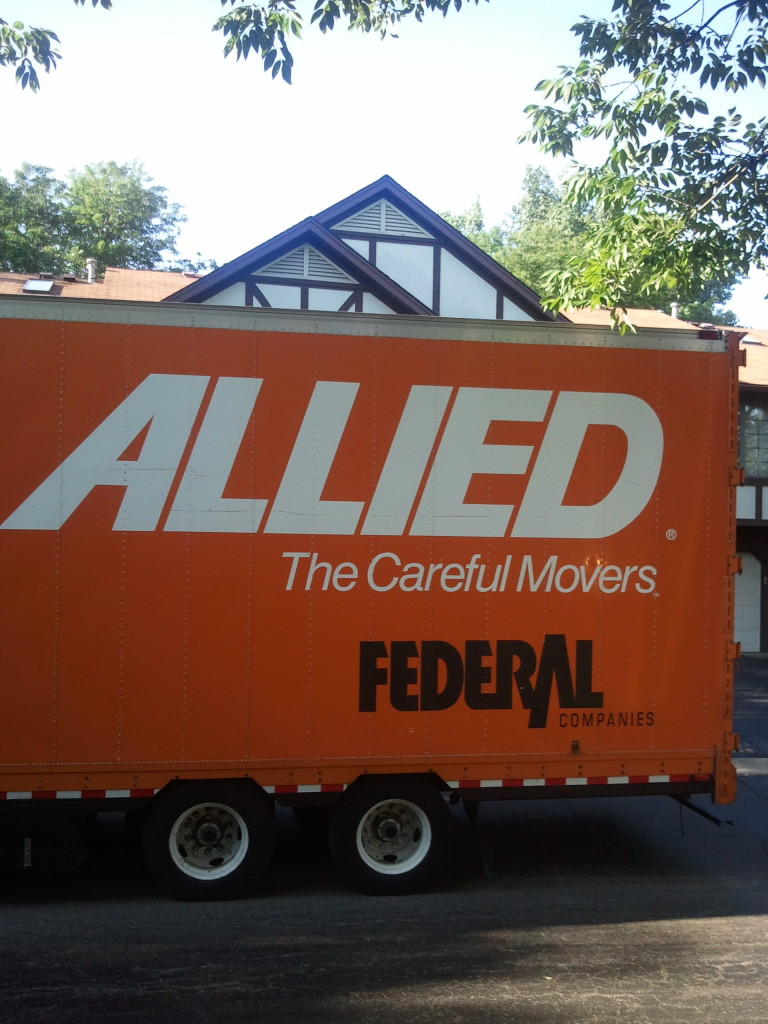 After meeting him, I was confident that he'd be able to ensure that we'd have a good move. He had his own team of hand-picked folks, telling me he chose the people he worked with because he knew that they would do the job like he would want it to be done.
And boy was Mr. Wolf Keen right.
Jose and his crew showed up on a Thursday. They had driven the bright orange 18 wheeler 170 miles from Peoria, Ill. to our house. After Jose arrived, he quickly scoped out the area to see if he could fit his big rig into my complex. I didn't know this at the time, but he then went and he knocked on my neighbors' doors to see if it was OK that he parked his truck in front of our place.
This was just the beginning of his extreme conscientiousness. Jose and two others came and began packing up our items. Jose was good at making sure we had set aside anything we might need to get us through the weekend.
At one point my hard-to-impress mother nodded in approval when one of the movers handed my Hubby a wad of dusty Chinese yuan he found Lord-knows-where. She said: "They're very trustworthy."
They certainly were.
Jose and the other two guys spent all day packing, packing and packing up all our stuff. They transformed our home into a maze of cardboard boxes. Even the garage was filled.
They came back on Friday and this time, Jose's wife Vanessa was with them. He had told me the day before how his wife was an angel because she was awesome with their five children. When I met her, she immediately seemed like a girl I could really toss back a few hard ones with. Jose and Co. spent the day loading, loading and loading our stuff.
It's funny, it's like they started to feel like family. They had spent hours upon hours with us, going through all of our possessions, it was a strange bond. Jose joked with Hubby about how it is to be married to an opinionated woman. Vanessa and I joked at the ineptitude of our men. Logan and Ethan thought the other crew guys were really cool, and would marvel at how they effortlessly moved our couches, mattresses, dressers, and dining table. It was like we had superheroes right here in our home.
Once the packing was done, they headed off to Portland. As they drove away, I was sad to see them go. Silly right? But clearly, they had become more than movers.
We had our going-away party in our empty house and later flew to Portland. When Jose called and told us he was on his way to our new home, I was so excited to see them. Then when that familiar, orange big rig pulled up, I wanted to hug them, but that seemed odd. I suppose to see a familiar face in a strangers' land meant a lot. I know, sounds dramatic, but it's true.
Jose did just what he did when he visited our home in Chicago. He got out, scoped the area, and made nice with the neighbors.
And the unloading began. They unloaded the truck, and put away all of our belongings. We decided to buy everyone pizza because we all needed to take a break and nosh.
Once the pizza was down the hatch, we all went back to the business of trying to get the house together and then all too soon, our movers were done. They'd moved our stuff 2,000+ miles, put it all away and there was nothing else more to do. We, had moved.
So with a couple of goodbye hugs, firm handshakes and a picture our last tie to Chicago piled into the 18-wheeler and rumbled down the quiet street of our new neighborhood.