Getting Ready for Kindergarten… I'm So Not Ready
I'm preparing my entry into the scary world of elementary school. Logan starts kindergarten in the fall, but there's already been registration, Parents Night and class screenings. Oh. My.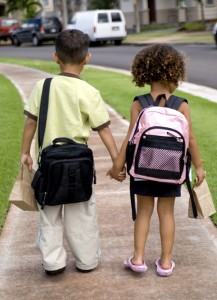 A lot of the activities (rightfully) focus on getting the kids ready. But what about me? I'm not talking about the usual "my baby is growing up" wistful feelings most moms have. I'm talking about all of the crap you have to do before you ship them off. I'm so not ready.
The school year is four months away still and I'm already ready to be done. First there was registration, which required form after form after form to be filled out, not to mention the immunization records, the physicals, eye exams, dental exams, proof of residency, vial of blood… OK, clearly kidding on the last one.
On the day of registration I came with my mountain of papers and seeing how I didn't have some of the required paperwork for proof of residency, I brought a copy of our mortgage. The entire, 11×14 cumbersome packet. One of the PTA volunteers had to help me thumb through the reams of paper to find the information that qualified our family of residents of our quaint burb.
Then came Parents Night, where parents go to the school, meet the teachers and principal and find out more about the kindergarten program. That night, Hubby and I had a miscommunication on timing, so we arrived well after it started. Nothing like loudly bursting into a gymnasium filled with more than 150 prompt parents, especially just as the principal says: "And in conclusion, if you just remember that one, crucial thing, your child will be fine next year…." Well, so the principal didn't say that. Though, he could have, you know, since we weren't there for his speech.
Next up was kindergarten orientation. I thought it was just something for Logan to tour his the place, get a feel for what life might be like at the big kid school. Then while talking to one of my mommyfriends, she asked:
"Have you taken Logan to get screened for kindergarten yet?"
"No. What screening? Is that the same as orientation?"
"No. It's screening."
Silence.
My heart sank, have I flubbed this up already? What screening? I don't remember a screening. Nobody mentioned nuthin' about no screening. Biting back the panic, I called the school. The damn place was closed and I got the office voicemail. I'd have to call again in the morning.
But the next morning I forgot all about the kindergarten screening. And the next and the next. (I kinda suck at this, don't I?)
Finally, two days before his orientation, I called the school to inquire about this "screening." Turns out the orientation and screening are the same thing. Phew. Much ado about nothing. Again.
Glancing at the school calendar, I am reminded how much stuff that goes along with attending school. There's endless forms, Back-to-School Night, parent-teacher conferences, field trips, concerts, activity nights, progress reports, spirit week, bake sales, rummage sales, library books, PTA committees… I think it's going to be nonstop and only get more hectic with each grade.
So yeah, my kid's getting ready to go to kindergarten, and I am so not ready.