BlogHer Recap: Growing your blog, kissing Piper and talking Scandal with Kerry Washington
I've sat down to write this post a few times, but there's so much to say I'm honestly not sure where to begin. My journalism self demands: Get to the point!
And that in itself is hard. I recently went to the BlogHer conference and I learned more about my craft, was so inspired by my peers and reveled in the greatness of being without my Hubby and kids. Having time away from my everyday cleared space to think about where I want She'sWrite to go and how I can get there. I'm sure ya'll don't want to hear about my navel-gazing so I'll share with you some of the conference highlights.
My friends. This undoubtedly is my favorite part of any conference. Who doesn't like to reconnect with old buddies? I'm still homesick for Chicago, so this was an especially lovely treat. Plus I always love meeting new people, and the atmosphere at BlogHer makes it so it's easy to find kindred spirits. I met a slew of them. The first post-conference blog that I wrote was about them. I'll share that with you guys later this week.
Netflix. This wasn't an official BlogHer activity, but as a member of Netflix's Stream Team, we got to tour their oh-so-cool headquarters, ask executives questions and meet the real Piper from Orange Is The New Black. I even kissed Piper Kerman! #teamnoshame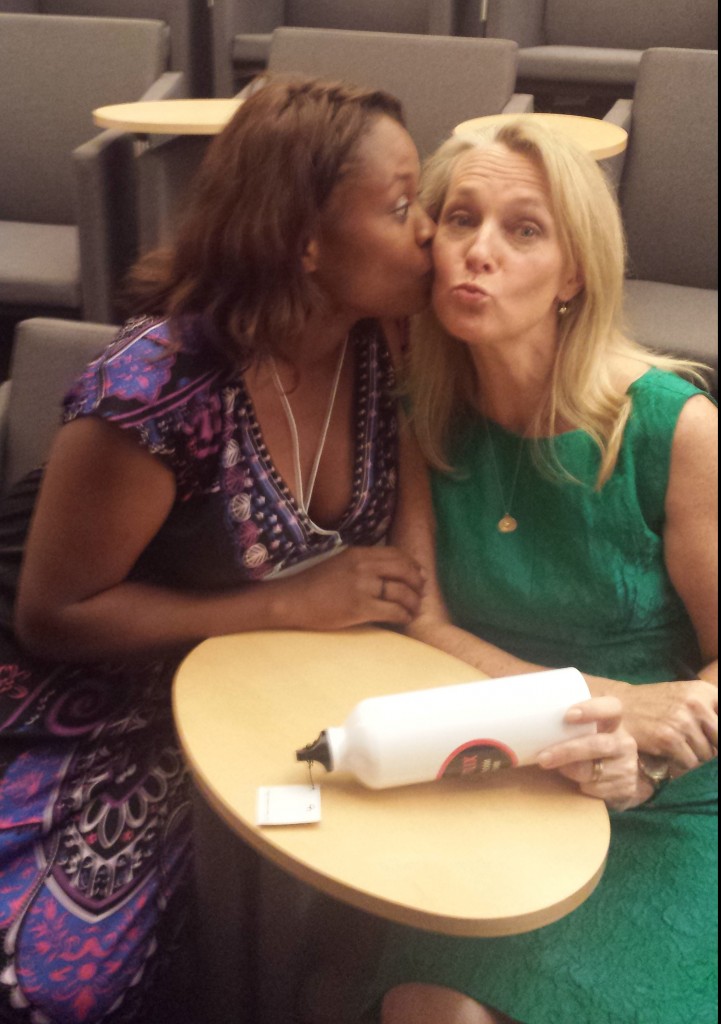 This is Piper Kerman, a good sport and author of Orange Is The New Black.
Kerry Washington. She spoke at one of the keynote sessions and it was refreshing to hear her anxiousness on going back to work as a new mom as well as her passion for being politically active. That was instilled in her when she was young. Her parents even took her out to dinner to celebrate the first time she was able to vote.
VOTY! Voices of the Year celebrates some of the best blog posts in BlogHer Land. I always enjoy anything that recognizes quality, heart-felt writing. Last year I was one of the lucky ones who got to read her essay before the crowd and this year I was able to take in others' soul-baring essays.
Arianna Huffington. I wouldn't say this is a highlight of the conference, but it was one of the more notable moments. At a keynote she was talking about her newest book, "Thrive." She was making all of these platitudes about women and how strong we are and we have to make sure that we're well-rested before we do anything else. And for me it fell flat. Here was this woman who was advising a room full of sleep-deprived moms to rest. Most of us don't lack sleep because we want to walk around like zombies. It's a peril of the mom job. Not to mention we're all bloggers and The Huffington Post does not pay its bloggers. I couldn't get over that. How does a blogger "thrive" under such a pay structure? Still yet, many women were inspired by her talk, gave her a standing applause when she was finished and hordes of them scrambled to get inline for their autographed copy of her new book. So who knows, maybe I just wasn't in the mood to hear her message.
I'm Enough campaign. I met a kickass rocker chic who had amazing shoes and a even-more-amazing perspective on what it means to be "enough." She's the driving force behind The Mrs. band and she plays the drums. I can't wait to share more with you on their #imenough project.
Celebrity sightings. OK. Confession time. I do enjoy me some vapid entertainment. After a rough day, instead of treating myself to something sweet to eat, I like to buy what I call "Mind Candy." Those celebrity magazines. Anyway, Khloe Kardashian was there, the line to get a picture with her was astronomically long. I just took a few pics from the sidelines. I also got a pic with David Tutera, who has amazing eyebrows! But the best was Rev. Run. He was DJed a set at the closing party. All I kept thinking while shaking my groove thang was "There's Rev. Run! There's Rev. Run!"
Even though it was only a weekend, so much was packed into it, BlogHer felt like a week-long event. I'm still digesting all the little nuggets I learned and connections I made. Are you ready to come along with me as I work to grow my blog? I'm sure it'll be a fun, quirky adventure.