My Co-hosting Debut: Did I blow it up or bomb?
So, how'd it go? That's what a lot of people were asking me when they found out I was going to be live on the air. Well, in case you missed my debut on Vocalo's The Barbershop Show, let me give you a peek at my time behind the mic.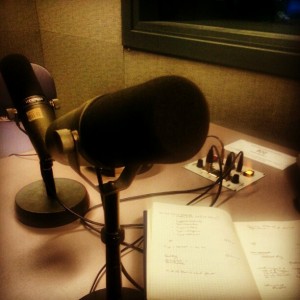 I was strangely nervous before the show. I say strange in that public speaking doesn't scare me, it excites me and I really enjoy it. But for some reason speaking out to some unseen audience was unnerving. I'd be more comfortable doing the show before thousands of people than amid the loving walls of Carter's Barbershop on Chicago's West Side.
Crazy, I know.
Anyway, to prepare for the show I was to pick out a story in the news that I liked, one that I didn't like and one that made me go WTF. I had my stories ready, but didn't spend too much time poring over them because I didn't want to sound rehearsed.  I also talked with some radio pals about doing what they call "reset," which is when you plug the show and the number that listeners can call and related information. I was warned that it can be tricky to interrupt the guests to "reset" because you're trying to stick to a schedule and often they're yammering on.
I got to the shop a few minutes early and chatted a bit with the amazing Richard Steele. He's so cool, like the uncle that you try to sit next to after Thanksgiving dinner because that's when he starts telling these wonderful life stories.
Our guests were the hilariously chatty Don Hall and the sweet-but-don't-mess-with-me Maria Zamudio. We put on these obnoxiously huge headphones, went through a sound check and then it was go time.
Richard opened up the show, introducing me and the guests and as we talked, I felt like my mind was racing with a million things to say, but a mere fraction of them escaped my lips. I kept wondering where was the aggressively chatty girl who was featured on HuffPo Live a few weeks ago?
Then came time for my first reset.  I got the signal and Maria was in the middle of talking about undocumented immigrants getting driver's license and between breaths I completely cut her off.  At the break, the show's producer said it was OK to let the speaker finish her thought. Whoops. :s
I got a text from my friend who advised me to loosen up and Hubby sent me one saying I was doing great. OK Melanie, I told myself, get your act together. I focused on the chic who was on HuffPo Live, pulled my chair closer to the table and got comfortable. We talked about some great stories, a pot dealer who was helping out Hurricane Sandy victims, Mitt Romney's blame game, education, immigration and the police officer who wanted to eat a person.  … Yeah, I know.
Anyway, I had a blast and I hope they ask me back sometime.  Check out the link below if you want to hear it, Hubby had fun mocking my "quiet storm radio" voice. I swear I wasn't trying to sound like that. Anyway, click on this link and I'd love to know what you think. Be honest.
(Gulp.)