A Vacation in the Caribbean, Won't You Come Along?
Aaaaaahh. Vacation. Such a great word. It stems from the Latin word Vacare. You can probably tell that I'm on one right now, because who has the time to pontificate the roots of the word "vacation?"
I wasn't going to blog from my vacation, but then I thought, why not? It's not like blogging is work. In fact it's something I really enjoy. So I welcome you to come along with me for a cybervacation, if you will.
It starts off in Miami, then aboard Carnival's Destiny ship, which we'll cruise to three stops in the eastern Caribbean: Grand Turk, Half Moon Cay and Naussau. We can thank Hubby for this trip, it was all his idea. For our honeymoon we took a cruise to the western Caribbean. It was then that we said in five years we'd take another one to the eastern side. It is now 10 years later and Hubby was adamant that we did something special to mark our anniversary. And now here we are, on vacation and loving it.
Oh, and I forgot to mention the most important thing about this stress-free vacation. The KIDS ARE WITH GRANDMA!!! My mother-in-law came over for us to be able to take this trip. Hallelujah!
Bienvenido a Miami
We arrived in Miami in the morning. I had asked Hubby if we could stay a day there because believe it or not, I'd never been. We arrived at our hotel, which with its dingy white lobby looked to be quite old. They charged us $1 to keep our bags and we hit the streets looking for nosh. After zig-zagging through the streets, we came across Lime Fresh. We walked in and Janet Jackson's Come Back To Me was playing. I knew we'd chosen wisely. Hubby got the burrito and I got the three tacos and we began to drink. I was downing margaritas and he was tossing back the Coronoas. Aaaaaah, vacation. We spent the next hour listening to the music and singing a long to the tunes because it was the top 20 hits of 1990. The staff there were clearly amused by us and I can't blame them.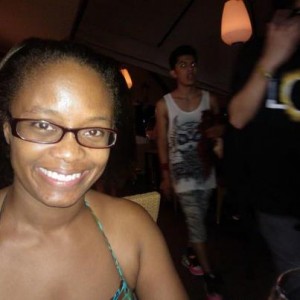 Later we changed our clothes and headed to South Beach for dinner. I'd heard about South Beach with its party atmosphere and scantily clad women, but whoa, I admit, I wasn't ready for all dat! There were big girls, like 250 lb girls, in only bikinis and high heels. There were leotards that had geometric holes in them. Shorts so short, I'm not even sure Daisy Duke would have had the cajones to wear them. These chics were spectacular in their body confidence. I need to take a page from their book. Not that I need to start wearing leotards or anything, just to be more proud and accepting of the body that I have.
Next up, a day at sea….