Today's a great day at She'sWrite. Well, it's always a great day here, but today is especially cool because I'm being featured on The Mom Pledge.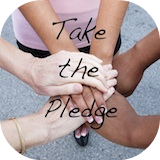 The Mom Pledge is a community of bloggers who have made a promise to treat each other with respect, basically trying to eradicate cyberbullying among moms. It can be a rough and tumble world out here on the World Wide Web, and since life is hard enough, why add to the drama?
If you're finding me through The … Read more ...