She'sWrite is on The Mom Pledge, A Movement Against Cyberbullying
Today's a great day at She'sWrite. Well, it's always a great day here, but today is especially cool because I'm being featured on The Mom Pledge.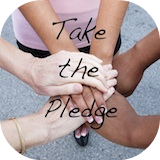 The Mom Pledge is a community of bloggers who have made a promise to treat each other with respect, basically trying to eradicate cyberbullying among moms. It can be a rough and tumble world out here on the World Wide Web, and since life is hard enough, why add to the drama?
If you're finding me through The Mom Pledge, welcome! Some of my favorite posts are: An eye-opening, heartwarming trip to the grocery store, the tale of a heroic Marine beating the odds, quitting my job of 12 years and Ethan's story. I hope you check them and others out and find a little of yourself here.
After all that's part of the beauty of blogging, the connections you make with others can be powerful, or at the very least make you feel like you're not the only nut in the nuthouse.
To find out more about The Mom Pledge, visit here.