Tuscan Market and Wine Shop is a place where it's not all about the wine. Really, it's all about you.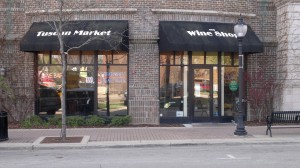 It's nestled in the middle of a block not far from the commuter rail line and it sits along a bricked sidewalk, looking like the other wine shops in town. But creak open the doors and slip into a welcoming watering hole.
The vibe here is "drink whatever you like, we just want you to have a good time," says owner Amy Philpott, who opened … Read more ...