Tuscan Market and Wine Shop: Drink Wine and Be Merry
Tuscan Market and Wine Shop is a place where it's not all about the wine. Really, it's all about you.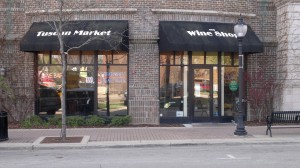 It's nestled in the middle of a block not far from the commuter rail line and it sits along a bricked sidewalk, looking like the other wine shops in town. But creak open the doors and slip into a welcoming watering hole.
The vibe here is "drink whatever you like, we just want you to have a good time," says owner Amy Philpott, who opened her shop in 2007.
The seating area, which can comfortably hold about 50, is comprised of several round, dark wooden tables, a couple long rectangle ones perfect for a girls night out or an informal meeting and a beautifully stocked bar with incredible beer on tap.
Just ask my husband, he's a beer snob who hates wine. Whenever he hears the words "wine shop" or "wine bar," he instinctively rolls his eyes (and in my mind, probably starts to brace himself for choking down "classy" beers like Bud Light's Platinum ….)
But not here. They have three beers on tap, and those often change. Recently it was Guinness, Harp and Breckenridge Irish Red. Also, Tuscan Market has a staggering bottled beer selection. Or maybe I should say a bottled selection that could leave you staggering? Regardless, it's one that makes manager Debbie Smart is quite proud. Her and Hubby bonded over lagers the last time we were here and by only the second round, she prohibited him from ordering any more.
Not because he had taken to dancing on the tables (again!), but because she wanted to choose his beers, surprising him with new ones that he hadn't before tried. He happily swigged them down, with his favorite being Einbecker Pils.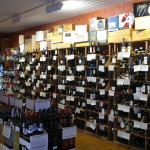 But enough about the beer. Let's talk wine. Ohhhhh the wine. You can find reasonably priced wine all the way up to the throwing-logic-out-the-window priced wine. I liked the Crios Malbec but the Cambria Tepusquet Syrah is more me. It's a classic Syrah as it's rich with dark berries, smoky and with a floral overtone. Yummy.
What goes better with wine and beer than food? Tuscan Market's nosh is insane. I went there with my mommyfriends and we got the Tuscan Drops, which were crispy pizza crust-like on the outside, with a soft-in-melt in your mouth ooey gooey brie and pesto inside.
They also have tasty pizzas. We tried the Tuscan Heat, which has fresh pesto, mozzarella, smoked gouda, spicy sausage and giardinerra. It's the brain child of Smart, the beer specialist. I found it to be hearty and just the right amount of kick. Hubby absolutely loved it. I moreso enjoyed the Three Cheese pizza. It's got mozzarella, provolone, smoked gouda and pesto.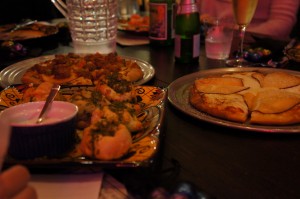 At a recent girls night out, one of my friends took the first bite of the Three Cheese pizza and exclaimed: "Oh my GAWD this is better than SEX!!!" Naturally it was an ugly, hair-pulling battle to get a piece and about two minutes later, it was all over.
Tuscan Market also has a deli, a sizeable selection of wine stacked along its walls and all the accessories and gift ideas that any wino could ever want.
And this place is not all fantastic food and drinks, there's a very popular book club. I know, nothing says sexy like a book club. But really, this is a cool one. So cool in that they have the authors come to do readings and answer questions about their books.
About every six weeks an author comes and for $25 you get a book signed, appetizer and glass of wine. The event is capped at 60 people, so register early. Like the "Better Than Sex" pizza, the spots quickly disappear.
All in all, Tuscan Market is delectable and I can see why many refer to it as the local Cheers. I think I may work on becoming their Norm.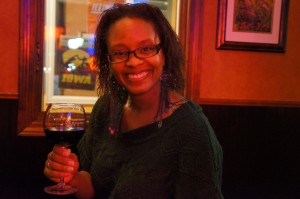 Photos by Ginny Washburne
*Disclosure: Owner Amy Philphott gave a group of my friends some free appetizers and pizzas for our girls night out.