This NPR Nerd Gets Her Chance At Wait, Wait… Don't Tell Me
I love NPR. Even before the coffee is brewing in our house, National Public Radio has been turned on.
I get to drink in nearly two hours of NPR before my 5 year old wakes and that's when I have to turn it off because that's generally the time for Morning Edition, and I don't feel like answering questions about genocide, Julian Assange or affirmative action. We can talk about those topics, just not at 8:30 a.m. while we're trying to get to summer school on time.
When I found out I had a chance to attend a taping of the show Wait, Wait … Don't Tell Me, I was stoked. Wait, Wait is a hilarious weekly news quiz show that features a panel of comedians, journalists or famous folks who are just plain witty and fun. This panel answers questions about the week's news and callers from around the U.S. get to compete in the games too. There's also a celebrity guest who participates via phone.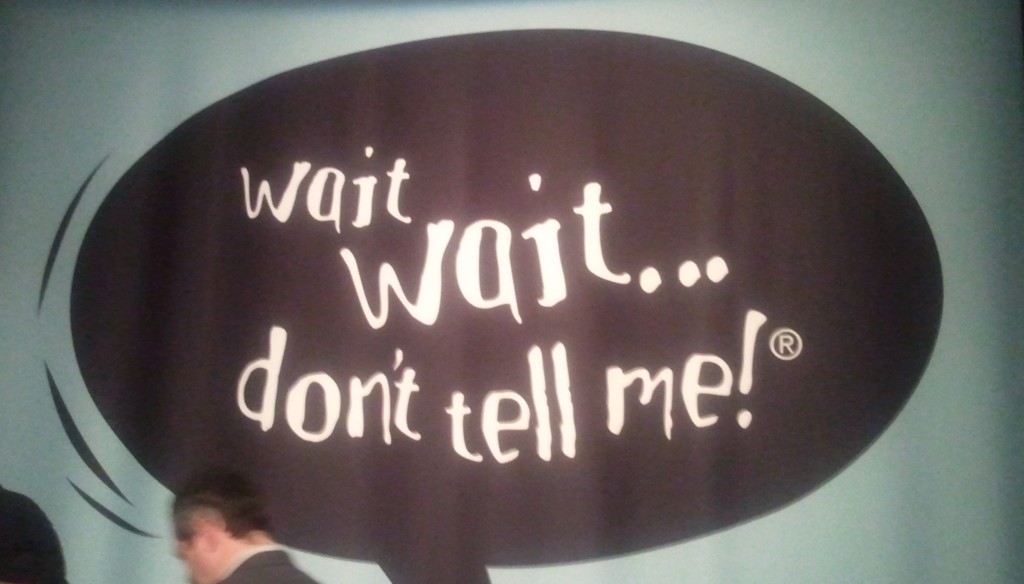 To me the show, which has 3.2 million listeners, is a kinda like a newsy focused Jeopardy (without the annoying music) that you play with your funniest friends after a few rounds of Grey Goose. Anyway, the show I was to attend was taped while my husband was working in Europe for two weeks, so needless to say, this was a much-needed break. The night of the taping, straight out of the Murphy's Law book, my sitter of nearly three years was late for the first time. Like really, really late.
But I wasn't worried. I'd been flying solo with the kids for four straight days and was so happy to get away. I hopped in the car and blazed toward freedom. It didn't matter that she was late.
That is until I hit a wall of Chicago traffic. Since having kids, I've just come to accept that I'm now going to be late for most things, which normally is fine, but being late for the live taping of my beloved Wait, Wait was a bit too much for me to bear. You can't be late for live tapings, I mean, it's LIVE!
Then the weight of the week came crashing down on me. All the temper tantrums, shuffling to soccer, baseball, the gym, playdates, the grocery store, the 3 a.m. wake-up calls, not to mention some work-related stresses. My eyes grew moist. And then a tear made the lonely trek down my cheek. He was followed by his other teardrop-friends.
Before I knew it, I was blubbering down the highway. I usually try to hold back my tears, but not this time. I needed the release. I'm embarrassed to admit that I even devolved into a bit of the ugly cry. Then after a few moments, I felt… lighter. And the traffic got lighter and I drove a little faster. My friend who was saving me a seat in the audience was texting me encouraging updates, I just might be able to make this. I just might be able to make this.
I flew into the nearest parking garage and cursed my high heels as I trotted along Clark Street. Down the escalators, down the stairs, through the Chase Auditorium doors and I slipped into my seat in time to watch host Peter Sagal and legendary anchor Bill Kurtis take the stage.
And the show was fantastic. The panelists were the sardonic Luke Burbank, the beautiful and sharp Faith Salie and comedian Bobcat Goldthwait. Yes, Bobcat from Police Academy. He was really, really funny. (And for the guy who talks about Bobcat like he "ruins" Wait, Wait. Shut it, the man's hilarious. We've seen him play stupid characters, but he's smart, has great timing and the way he reads an audience is artful.)
Our celebrity call-in guest was astronaut Buzz Aldrin, who told a funny story about the time he "popped" a guy in the jaw. If you didn't listen to it when it aired, you can catch the show I attended here. In fact you can catch all the episodes on the show's site, or just wait wait until it airs on the weekend.