Wait, Wait, Don't Tell Me….OK, I Gained HOW Much Weight!?!?!
I've got a bad hangover. A cruise hangover. It's not a headache situation, but more of a belly situation that's hanging over my jeans. I gained a bunch of weight while on my five-day cruise.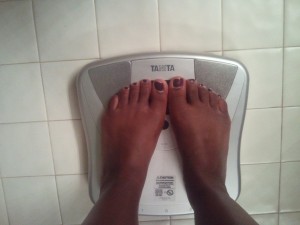 It's impressive really when you think about it. In five days, FIVE I gained…. (drumroll) Nine pounds. That's more than my children weighed when they were born. I started off the cruise trying to be good, but that lasted about 45 minutes because of the all-eat-til-you-drop options. Just trying to navigate through the different parts of the ship you had smells of fried chicken, pizza, French fries, jerked chicken,  barbecue, oh it was endless.
And so was my gorging. Not to mention the alcohol consumption. I am proud ashamed to say that I've perfected the art of maintaining a nice wine buzz throughout the day and into the night without acting like an idiot or waking up with a headache. There is something kinda cool about being able to perpetually walk around with a glass of wine in your hand at any time of day and no eyebrows are raised.
But what's not so cool is coming off that ship with nine pounds of extra baggage. I've been struggling with my weight, and haven't chronicled it here like I meant to. When it would drop I worried about sounding like I was bragging. (Yay me! I lost 10 pounds!) Then when it would go up, I'd be too ashamed to really talk about it.
But now, NOW that I have set a record for the most rapid weight gain, I gotta share. I mean, yeah it's embarrassing, but it's also like wow! Imagine that. Also, I'm hoping this will add some accountability to my progress.
I've been lacking in the motivation department and have been thinking of different ways to get my rear in gear. In May I organized a Healthy Mama Challenge where six of us chipped in $10 and could go on whatever health regime we wanted, we just had to chart our progress. Each week we had weigh ins and then at the end the winner got $60. The winner lost 10 pounds, and 8.5 inches! (She used the Amen diet and then switched to Weight Watchers.) During the challenge, I unfortunately gained 3. Obviously organizing something like that wasn't enough motivation.
I think I just have to be tired of being this size. That way I can say enough is enough and stick with it. I find that I do a better job if there's an event that I have to train for like a race up Sears Tower. I've recently been contacted by folks at Pretty Muddy to do their mud-filled 5K obstacle course … Sounds like a dirty job, but this body really, really needs to do it.