What I Learned At Bloggy Boot Camp: Twitter, Tribes and Tassels
I was 30 minutes late for dinner. THIRTY. This is one of those things that only started happening after my kids were born. What kind of person shows up at a restaurant 30 minutes late?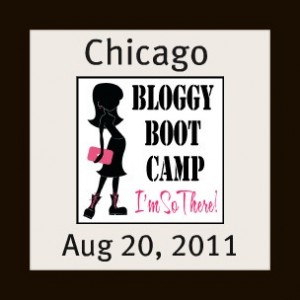 Well, me, apparently. It was the night before my blog conference and some of us were meeting for dinner at the hotel. My children must have sensed that I need to bail on their evening routine early so they were doing their best to delay my departure. Mission accomplished.
Finally, I get to the restaurant and several women are sitting in a corner. That must be my group! We introduce ourselves by our names and Twitter handles. It's kinda cool, I've Tweeted with some of these people but it's the first time most of us have met.
We laugh, talk and tweet throughout the night. And it's girl talk. The good kind. The kind where you laugh so hard, an embarrassing snort slips out. Like when we were discussing the upcoming conference and advertisers, one of the girls said she would run through the banquet room wearing nothing but spanx and tassels on her boobs yelling: "Brand Me! Brand Me!"
We howled. Throughout the night we kept referring to "Brand Me!" while shaking our imaginary tassels. By the end of the night, we'd branded ourselves the Tittylicious Ten.
I walked out of the hotel on cloud nine, thinking if dinner was that much fun, clearly tomorrow's conference is going to be a blast. Once home, I read a tweet from one of the girls: "Felt like I already knew you all _ like we were having a reunion."
Perfectly put.
The next day I went to the conference (I was on time!) and I learned sooooo much. The speakers were dynamic and my fellow participants were sharp and inspiring. Throughout the day the TT girls would steal smiles at each other, whisper "Brand Me!" or even do a quick tassel toss.
At the end of the day, there was a drawing for prizes. They called out the name of one of our T.Ten ladies. Me and another TT girl locked eyes and started doing standing tassel tosses. We were hoping the prize winner would do a celebratory Brand Me dance, but she was too busy doing a cartwheel. Yes, a cartwheel.
Like the fool that I am, I pressed the issue, yelling at her to do the Brand Me dance. She (smartly) refused. Then there was one last drawing. For a SONY Bloggie camera.
The woman called out "She'sWrite." My heart dropped. Great. Since I heckled my friend into doing the Brand Me dance, I'm clearly going to have to do it in front of 100+ people. Just great.
I go up to the front of the room, get my prize, my TT girls are grinning at me, a handful are tossing their tassels, hoping against all hope that I do it… Naturally, I raise my arms in the air and shake my imaginary tassels. Brand. Me.
Walking back to my seat, I just shake my head and laugh.
I learned many, many great lessons from The SITS girls' Bloggy Boot Camp, but my greatest take away was the importance of having a tribe, a group of bloggers who can be your sounding board and support you as you navigate the blogosphere.
I feel lucky to have found my tribe at SITS. Brand me a member of the Tittylicious Ten.
Meet my girls: