Ten Years After 9/11, Have We Forgotten An Important Lesson?
9/11/01. We all know what happened that day. Millions of us remember exactly where we were when the planes struck. And many of us have vowed to never forget the nearly 3,000 lives lost.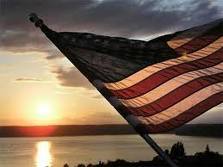 It's been 10 years and I'm left wondering if we've forgotten something else that's poignantly important: Unity.
Do you remember in the days after the attacks, how united we were? Strangers talked to you more, people seemed more compassionate and even the politicians stopped trading barbs.
I know that as a country we were grieving and that grief knitted us closer. I didn't think we'd all be singing kumbaya for years to come, I just hoped that we'd keep some of that closeness.
If there's anything we learned out of 9/11, it's that we as a nation can be wonderful when we're together, but right now it doesn't feel like we're there.
Granted the country's mood has ebbed and flowed over the past decade, especially as our economy tanked. But still the widening divisions are disheartening. The 2012 races already seem poised to reach new levels of ugliness.
The ugliness in Washington got so bad, it threatened to shut down our country's government. And some of the nasty rhetoric spewing from the cable news networks is just shameful.
Not to mention how social media has made it easier for people to hide behind their laptops as they regurgitate hate.
I'm not sure how we can get back to capturing even a thread of the unity we had immediately after 9/11. I do hope that with this 10 year anniversary when we promise to never forget our loved ones who died that day, we also remember to simply love one another.
—-
(I'm sharing my awesome with Momma Made It Look Easy and you can too.)