Tower Up: Our Climb Up Chicago's Willis Tower
"Tower Up!" That was the rallying cry yesterday. About 2,500 of us met at Chicago's Willis Tower and climbed 103 flights. Some of us used hand-cycles, some used canes or were tethered to other people. We walked, ran, and even crawled up.
The climb was to raise money for the Rehabilitation Institute of Chicago. I got involved when my trainer started organizing a team to participate in the climb. Since I'd just finished the half-marathon and apparently having an "event" to prep for helps me stay focused on my work outs, I signed up.
There were 15 people on the Northwest Community Hospital's Wellness Center team. For the past several weeks we had training sessions on Tuesday evenings and Saturday mornings.
Our team was a group of great people. Working moms, a retiree who visits disaster areas as a Salvation Army volunteer, personal trainers, married couples, successful career women and me. Training with them was so much fun, cracking jokes, pushing each other, and having heart to hearts.
Sunday morning I nervously headed downtown solo, as Hubby was out of town for a boys weekend. After arriving at Sears Tower (it will always be Sears to me, not Willis.) I saw the hand cyclers. People who were on paralympics-like stationary bikes facing a huge screen that showed each person's progress.
Wow. They were sweating, arms spinning, machines whirring with determination to tackle the tower. Behind them, family members, friends and RIC employees cheered.
I took a moment to scan the lobby. I saw a couple blind people stretching, apparently preparing for the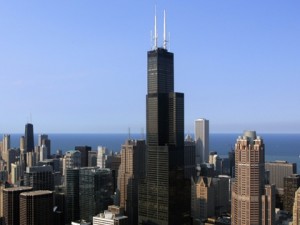 climb, teams of 20 and 30 with matching T-shirts, and sprinkled throughout were regular Joes getting geared up to Tower Up.
All too soon, it was our team's turn to go. The first few flights were good, then I got hot. Around flight 20, I said aloud: "This is harder than I thought." I turned up Nicki Minaj and pulled the bill of my hat down. I didn't want to see what floor I was on, so wore a hat to hide the numbers.
Really, all I wanted to know was when I hit 103. Gray stairs, gray stairs, gray stairs, don't trip, gray stairs, gray stairs, it's hot, gray stairs, gray stairs, why did I sign up for this? Gray stairs, gray stairs, gray stairs.
There's always a point in every race where I question myself. Why did I think I could do this? Can I do this? Is it almost over? Then I thought to Kathy Pacholski. A woman I met while doing a story on the climb for The Huffington Post. She had a stroke 15 months ago and today she was in this stairwell.
She was super excited to Tower Up, I needed to buck up and get busy. Soon I saw an older black man resting mid-flight. I clapped him on the back and smiled. He needed the encouragement. Then I saw an exhausted firefighter in full gear taking a pause to catch his breath.
I nudged my hat up a bit. Maybe I should look at more than these gray stairs. On each flight, there were climb volunteers cheering you on, fanning you with supportive signs. My favorite was "103? Easy."
But it wasn't easy. At least not for me. I was struggling more than I thought. My legs felt fine, I was having trouble catching my breath. At Floor 66, I stepped into the heavenly cool hallway, used my inhaler and poured water on my head. That. Was awesome.
I felt much better, I should have used that damn inhaler earlier. I passed a guy with a cane and long pants.
There was also a blonde woman with a splotchy red face who was crawling like Mowgli in the Jungle Book. I gave her an encouraging smile.
I saw the sign for floor 100. Only three more flights! I sped up a bit. Once I hit 103, I walked through the door to thunderous applause and the bright lights from the Skydeck. I felt dazed, a gentleman showed me where to pick up my medal. I received it from a young girl in a wheelchair who told me her name was Bridgette. I felt special. Thank you Bridgette.
After 31 minutes and 58 seconds. I had climbed 2,109 stairs.
I met up with my teammates, we swapped stories of our climb, took pictures on the SkyDeck's ledge and later went out for drinks.
For the rest of the day I kept thinking about how lucky we all are to be able to scale the nation's tallest skyscraper. Tower Up.