Tasty Tuesdays: A Dinner At Chicago's Pars Cove Persian restaurant
Hubby and I have always been pretty lucky when it comes to our friends. We think they're amazing people and they are all different on the outside: from born agains to atheists, seven-figure executives to welfare moms, and corn-bred white farm boys to inner-city brown-skinned survivors.
One evening the scheduling gods smiled upon us and allowed for us to have dinner with another couple. She's an amazing journalist and he's an amazing musician. I have no idea why they like us, but I'm just glad that they do.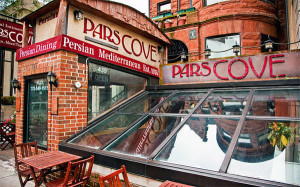 We went to Pars Cove in Chicago's Lincoln Park neighborhood. It's a family-owned Persian restaurant that is snuggled along a bustling Diversey Avenue. It boasts of three quaint dining areas, sizeable fish tank, stained glass wall and fireplace. I can't quite figure the motif, but you do feel as if you've stepped into the 1970s, but strangely, it seems to work.
Maybe it's because the place opened in 1976. The owner, Max Pars, is a charming sweet guy who is fun to talk to. He weathered a rough bit in 2007 after his food sickened people at the Taste of Chicago festival, but hasn't had problems since. People love this place and I can see why.
Hubby and I got to Pars Cove a smidge late because we were having a pre-dinner drink at Duffy's Tavern & Grille. (If you are over the age of 25 or not a University of Michigan fan, I would suggest avoiding this place. When I ordered a lemon drop martini the bartenders made a big deal of me "classing up the place." This is a college bar with an impressive, spacious layout.  But it embraces all that is good and bad about college bars. Again, if I was 22 and it was a University of Missouri bar, I'm sure I'd love it.)
But once at Pars Cove, we felt relaxed and at home. The Musician ordered a Grey Goose martini with a twist and though I usually go for wine, that sounded perfect. I suppose I needed to wash away the college-era martini of the previous place.
Honestly that martini went down so smooth and was so yummy, I wanted the glass to be bottomless. Admittedly I tried to create that affect by ordering round after round.
We started off with a wonderful appetizer called the Cool Sampler. It was a platter of Hummus, Kashk, Bulgarian feta, Dolmeh with a salad in balsalmic virgin olive oil.
The hummus is the best I've ever had, very fresh, bright with flavor and a smooth even consistency. It was hard not to lick the plate. If I was at home, I admit, the plate would have been licked clean.
For dinner I ordered one of the signature dishes, the chicken fesenjan, which is a marinated chicken breast simmered in a walnut and pomegranate sauce and is just as yummy as it sounds. I took a bite of the chicken and thought, hmm, that has a little kick. I didn't think the fesenjan would be spicy. Soon we figured out that I was actually devouring the tasty chicken zarreshk, which  was a chicken breast marinated in saffron and simmered in a wild currant citrus sauce. The Musician had my chicken fesejan. We swapped dishes and though we enjoyed the other's meal, we loved ours own much more.
Our table also had the lamb fesejan, which I think was the best meal at the table and I'm not a big fan of lamb. It was succulent, tender and mild flavoring blended perfectly with the rich, sweet-but-not-too-sweet fesejan sauce.
Finally dessert came and it was a scoop of vanilla bean ice cream, drizzled with honey.
As the meal was coming to a close me and the other journalist were presented with a rose. That's part of the tradition here at Pars Cove, ladies are treated with flowers. Like the décor, it's kinda cheesy but it's also a nice touch, so it works.