Party Like A Journalist: I Did.
There's something interesting about friends, some are great, others not so great.
I love it when you haven't seen someone in weeks, months or even years and then when you connect again it's like no time has passed.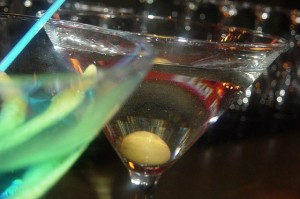 I recently had this experience en masse. A very good friend of mine left the AP after 22 years, eight months and three days of service (not that she was counting.) And naturally as any good journalist worthy of her stylebook would do, we went out drinking.
I was part of the "early shift," my friend got off at 1:30 p.m., and I was at our old watering hole at 1:35 p.m. The first martini was ordered at 1:52 and from there we traded war stories. Some of them new, some old, all of them good.
Tales of stakeouts outside federally charged politicians' homes while devouring lobster mac n' cheese, appointing an office doula in case of emergency, the screech of a previously swagger-filled police officer, the hazing of new employees and technicians whose main job seems to be when your computer is frozen to ask you if tried to restart it.
I laughed so hard, my cheeks hurt all the way home. Whenever I'm having a good time, I try to always take a step back and soak it in. I believe they call that savoring the moment.
And in this moment I saw some of the most talented, smartest, hard-working, honest and dedicated people I've ever had the pleasure of knowing and what was crazier was that these people were "my people." They know me and love me, flaws and all, and for that I'm forever grateful.
There is a really funny thing about friends, some are great, others not so great, but the best, the absolute best are like family.