The Long Flight To Norway: Have Kids. Will Travel.
So we made it. All 10 hours and 3 minutes on a plane. Covering 4,691 miles. Or as they would say here, 7,549 kilometers.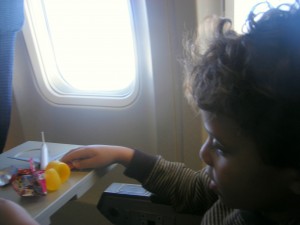 We are in Norway. For those who missed it, my husband's Norwegian. This year we're spending Christmas with his family, most of whom live in the land of the Vikings.
Packing for this trip was quite the feat. Since we're going to be gone for awhile, I wanted to pack for five days and then just do the laundry to recycle. Whenever we come over here we've got friends to catch up with, dinners to attend and help host, etc. so figuring out my wardrobe is a bit of a challenge.
I always overpack. It's one of the many things I need to work on. My dad asked me if I was ready for the extra baggage fees and I scoffed. We often just pay the $35 for having overweight bags. Well, it's been a couple years since we've gone to Norway. My how times have changed. We found out at the airport that two of our bags were overweight and it would cost us $200 for each piece of obese luggage.
The worker behind the counter offered to give us a bag so that we could put some items in there as well as shift other items around. If handled correctly, this was to put us under the weight limit. I cracked open my behemoth of a suitcase and immediately went for the boots. I brought a pair of snow boots and a pair fashionable knee-high boots. Those, clearly, were heavy. I chucked them, my conditioner, toiletry bag and a few more items in our new money-saving plastic bag and voila! We were under the 50 lb limit.
I was just happy that when unpacking my suitcase I didn't have to reveal to the people in line behind me all of my underwear. (That's happened before. Not sure why it embarrasses me, everyone has seen women's underwear, but because they're mine I like to keep them under wraps.)
I've visited Norway about a dozen or so times, but this is the first time that I've done it with two kids. I was worried how it all would go down. We traveled with Logan to Norge when he was 2 years old, but we were lucky in that we were in business class, so we had room to stretch out. (Not to mention, a stewardess invited me to abandon my sleeping husband and child to spend several hours in first class. So awesome to have a champagne breakfast on an international flight.)
But this time we were cattle-calling it in coach. Three seats and Ethan was on my lap. The flight was pretty uneventful thanks to leaving in the evening so that the kids could sleep, The Lion King being shown on Logan's TV and there was ample beer and wine for mom. (Though not too much wine because I had planned to nurse Ethan on the ascent and decent to help with the popping of the ears.)
After nearly eight and a half hours, we landed in the Netherlands. I love the Amsterdam Airport Schiphol because it's not as bustling as London's Heathrow and not as annoyingly configured as Paris' Charles de Gaulle. This time in Schiphol, we had about 4 hours to kill.
That gave us plenty of time to eat lunch and watch all of the freakishly tall Dutchmen. What is up with that? I'm barely 5'3" and these Dutchmen were like towering oaks. Some of them reminded me of the huge, talking trees in Lord of the Rings. (I just wiki'ed it. They were called Ents, who knew?)
Speaking of trees, there was one Christmas tree that scurrying about. Kinda like R2-D2 in Star Wars. (Sheesh, first Lord of the Rings, now Star Wars. If I can reference Dungeons & Dragons by the end of this post, it'll be a trifecta of geekdom.) Aaaannnyway. People were crowded around this tree and it kept making a slamming noise. Logan and I snaked our way to the front to get a better view.
He pointed and laughed: "Mom! Look at that tree!!" The tree stopped, turned around and made a beeline to Logan. He cowered behind me, I swear that kid tried to crawl into my saddlebags. I'm giggling the whole time, not sure what this tree is going to do. Then, CRACK! It opened.
A smiling Santa was inside. He laid his finger aside of his nose, then beckoned Logan to come to him. With a death grip on my finger, Logan walked to Santa, who quietly gave him a red plastic heart. Logan said Thank You. Santa winked and waived goodbye. Then CLAP! The tree closed around him and he scurried off to another child.
Soon after, it was time to hop aboard another plane, this time it was only an hour and 45 minute flight, nevertheless Hubby, Ethan and I couldn't keep our eyes open. And we passed out. Logan though, lover of planes that he is, stayed awake and watched the world out his window with his toy airplanes on his tray table. For him, life doesn't get any better than that.
*(OK, so I didn't work in Dungeons & Dragons. There wasn't a place to slip it in without torturing the writing too much. Alas, no trifecta here. Maybe someone can do it in the comments?)