Tasty Tuesdays: Our Drunken Pub Crawl and Medieval Porn
Everyone who knows me knows how much I love to throw parties. In the time of 2002 BC (before children) we used to have a big party each year, my favorite was the 80s-themed one.  With two little ones, those days have been put on hold.
Sort of.
Hubby and I were talking one night and decided we wanted to host a pub crawl. It's popular in this area for 20-somethings to have pub crawls using the Metra commuter trains since there are tons of bars within stumbling distance of the tracks.
After a bit of planning, I had it figured out. If our kids prevented us from having a big party at our house, we'd take the party elsewhere. I invited just a handful of friends and their husbands, as I felt corralling a bunch of drunks would be like herding cats. We had a party of 10 and in my mind, totally manageable.
We met at our local train station, and Hubby brought some old Norwegian Aquavit and disposable shot glasses to kick it off right. Some of us did a shot just before the train, and then at 2:32 p.m. we were off.
First stop, Mount Prospect: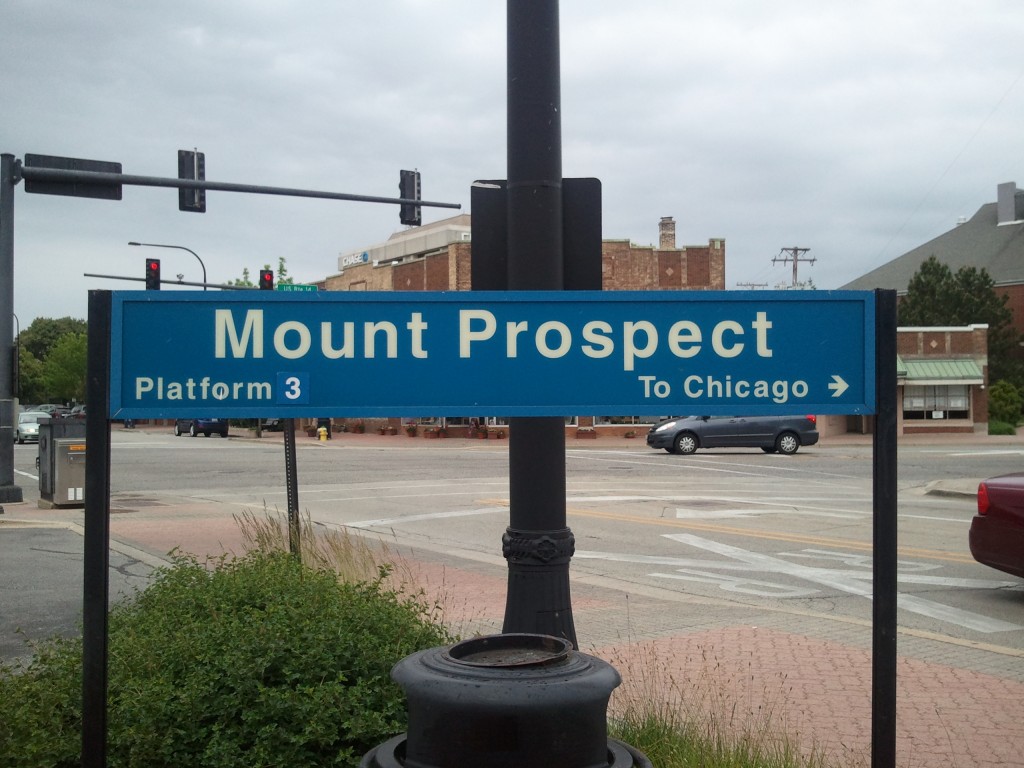 We went to Mrs. P & Me, which has sat along the train line since 1902. It's a perfect Chicago pub with its dark wood, hefty beer selection, black-and-white framed photos of the place's history and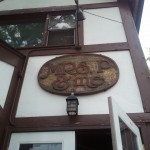 very friendly staff. Not to mention the to-die-for white cheddar cheese curds. We asked the bartender, Rosie, for one order and a random guy at the bar told us that the cheese curds were so good, we needed to get two orders. Thankfully we listened to this wise man, as those things were delish. (I'm not sure how they managed to make them calorie and fat free, but I didn't feel it was my place to question. :s ) *
I started off with Grey Goose martinis. (I don't drink beer, and pub wines usually aren't too tasty.) After downing a couple lovely lemon drops, I realized I needed to slow it down, especially if I was going to be our fearless pub crawl leader.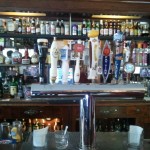 We laughed a lot and shared stories, including confessing our love for HBO's Game of Thrones and other "medieval porn." (A term that, along with "I am Spartacus!" became catch phrases throughout the night.)
A couple hours later, it was time to round up the slightly buzzed troops and catch the 4:11 train.
Next stop, Palatine: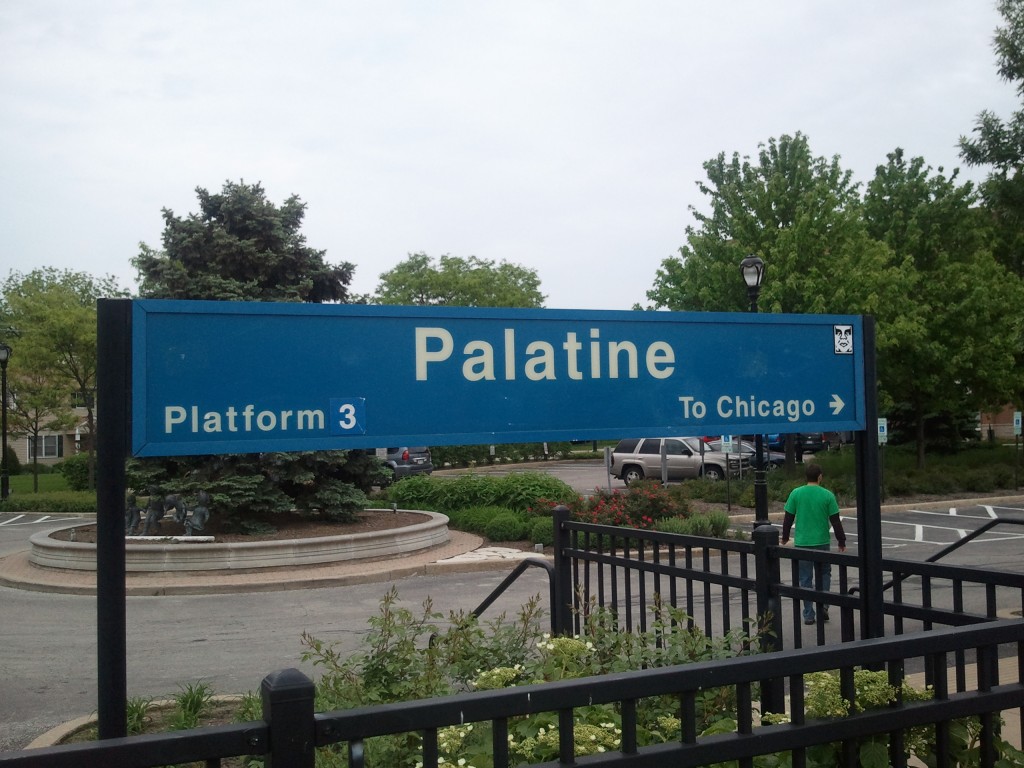 Here we went to Emmett's Ale House, which our family usually enjoys. They have great outdoor seating and the best kids swag ever. (Seriously, the first time we went there, it was like receiving a goodie bag at your rich friend's birthday party. They've since downgraded, but it's still great.)  Unfortunately, the service was so-so, so after one round, we settled up and went across the tracks to Pop's Bar and Grille.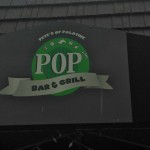 It's owned by a friend of one of my MILFs and reminds Hubby and me of one of our favorite pubs in college. The drinks are very affordable, our waitress was super friendly and the elevated TVs are perfect for watching the game. (Or medieval porn.)
At one point, I grabbed Hubby and had him take a step back with me.  It's my favorite thing to do when hosting a get together, I stop and take in how happy each person looks. It sounds hokey, but organizing things that give happiness to others gives me great joy.  I think it's the best feeling, right up there with Christmas morning.
A couple rounds later it was time to stumble across the tracks again and catch the 6:25 Metra.
As we plodded onto the train, laughing and talking a bit too loudly, we realized that throughout the day not one of our conductors came to sell us tickets. We weren't avoiding them, they simply never made it to our cars before we hopped off the train. And it strangely felt good that we scored free train rides.
Next stop: Arlington Heights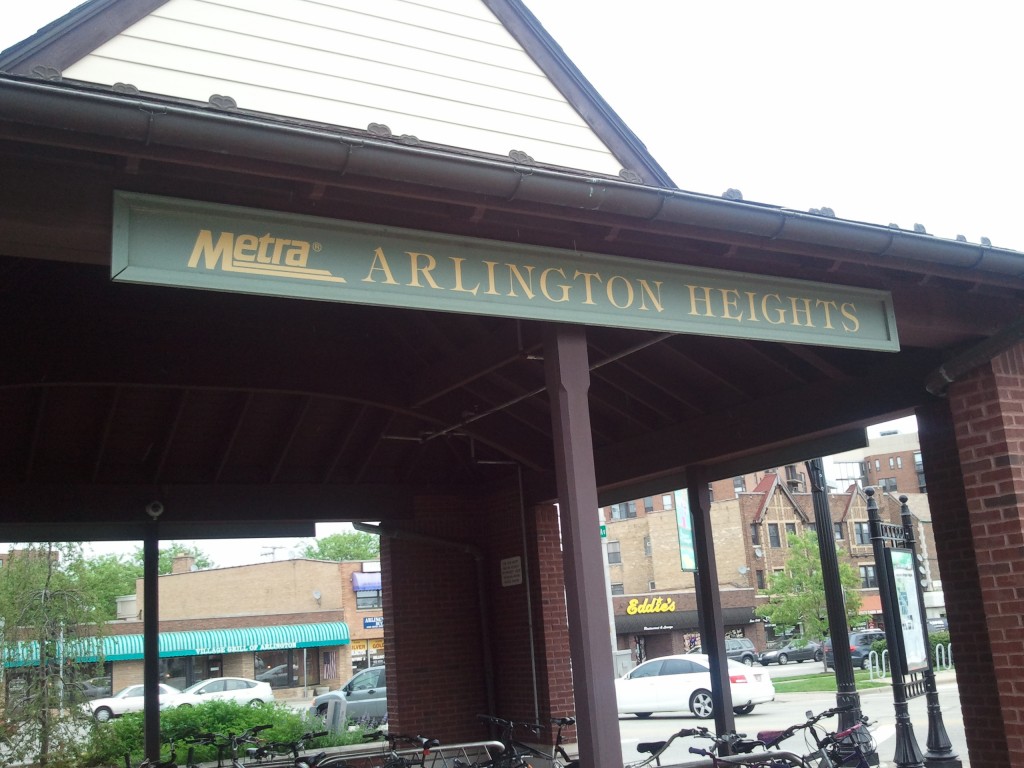 One girl in our group got so caught up in our good times that she forgot to stay on the train. She had planned to attend her 20 year grammar school reunion. (!!!) That party was just a few train stops away, but lucky for us, she and her smack-talking husband stuck with us for the long haul.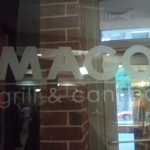 With all of this boozing behind us, it was time for some yummy nosh. And I thought Mago Grille & Cantina would hit the spot. I love this place and its fun-infused spin on traditional Mexican fare. We started off like all tables at Mago, with blue chips and a salsa trio. Then we moved on to the must-have appetizer, their fresh guacamole is prepared like many trendy restaurants: at tableside.
I ordered the chicken tinga enchiladas with a wonderfully smoky and a hint of sweet, mole xico. And the pitchers of margaritas went down nice and easy.
I'd planned on finishing the pub crawl at Mago's, but after dinner, no one was ready to go home, so
we moved across the street to Peggy Kinnane's for a night cap. Then as the evening drew to a close, we hugged and went our separate ways. Hubby and I finished off our night hand in hand, with a moonlit walk home.
*The generous owner let us order from the daily drink specials menu. I can't wait to come back here, especially for those fried-to-perfection cheese curds.