Back To The Future With She'sWrite
Roads? Where we're going, we don't need roads….
I've decided we're going to do a little Back To The Future trip on She'sWrite. I've been bogged down with other things, I haven't taken the time out to write for myself, and that's why I started this blog in the first place.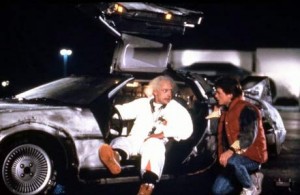 I've started posts and never gotten back to them, or finished them but haven't taken the time to hit "Publish." So hop on in with me in the Delorean as we go Back To The Future.
Some of the highlights will include, my new job, a trip to Belize, climbing the Sears Tower, pulling my son out of his new daycare, scary nanny hunts, Binders of Women, The Race2012 project, birthdays, yummy food and efforts to work off that yummy food.
Are you ready? Remember, when we hit 88 miles per hour, the flux capacitor's light will pulse faster until it's a steady stream and then we'll be on our way.