Six Ways to Become a Mompreneur
The role of the stay-at-home mom is important. Giving full-time care to children is a lessening trend in the U.S. A Gallup poll reports that while 24 percent of U.S. adult women are working mothers, only 14 percent can stay at home with their children.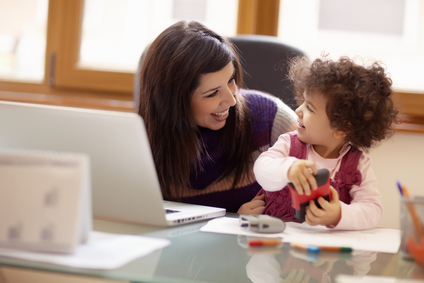 Despite this noble task, many stay-at-home moms are looking to do more with their time. Gallup also found that mothers who stay at home are more likely to be depressed than mothers who go to work. A mom's motivation for a new career might not always stem from depression, but simply a way to keep busy and make some extra money. Raising children might be a full-time job, but there are simple steps to become a "momprenuer."
Become a Financial or Tech Wizard
No matter what your skills or talents, a simple grasp on technology, business and finance goes a long way. Depending on the scope of your success, you could be dealing with anything from new smartphones and tablets, the latest software, business credit cards or hiring new employees. Non-profit sites like ManagementHelp.org offer tutorials and other free materials on basic business finance.
Offer Cooking Services
Those moms who leave for work each morning likely have husbands who do the same and neither have much team for cooking in the evening. If you're a whiz in the kitchen, offer cooking services to others who can't prepare a healthy one for themselves. Start with close friends with family, move onto neighbors, and if you food is tasty the word-of-mouth buzz will take care of the rest.
Start a Nanny Service
If you're already caring for your own children full-time, why not take in a few more. Nannying is a great way to earn extra money because there's little setup and you already know how to care for children (which means almost no self-training). One detail not to ignore: have the proper insurance and licenses. This isn't like babysitting back in high school, there are proper channels.
In-Home Tutoring
Another great opportunity to do for others what you're already doing for your own children. If you have an education degree or even a four-year bachelors, you can tutor at a fairly high level (up to high school). Companies like InstaEDU connect tutors and students who need help online.
Master Social Media, Then Sell Your Skills
Many startup companies don't have the budget to hire in-house social media professionals or outsource an agency to handle the workload. If you know your way around the Web and have a grasp on social networking, master those skills and offer freelance social media management to other companies. Not only are they desperate to hire affordable help, but the work you do can all happen right from the living room.
Start Event Planning
Maybe you want to get out of the house every now and then. Just like social media managers, freelance event planners are in high demand for weddings, parties and other special events. If you can manage to find childcare for your kids during event day, most of the planning can be done without leaving the house.
-Written by Ruth Weaver. She is a mom of two who blogs about motherhood, travel, fashion and celebrity gossip.